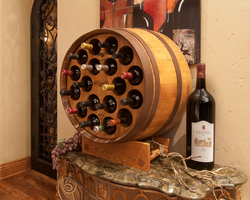 We are very pleased despite the long wait for this patent. After all, wine barrels have been around for hundreds of years.
Reno, NV (PRWEB) April 14, 2011
Chet Bassetti, a wine-loving inventor and retired engineer, has been awarded a patent for the new wine racks that he creates from old wine barrels. He and Diane Bassetti, his wife and partner in their Reno, Nevada-based Barrel Rack business, have been making and selling the wine storage containers since he completed the first step, application for a provisional patent, back in 2007.
Holding a U.S. patent means the Barrel Rack is protected from having its designs copied. It also adds value to the company for future potential investors or buyers. "Having a strong product patent provides us with an excellent foundation to move the company forward if we were to pursue collaborations with other companies," Chet Bassetti said.
It's been a long process, not unusual in the world of patents. "You describe your concept, submit it to the U.S. Patent Office and you're protected for one year before you have to make a formal nonprovisional application," said Chet Bassetti. He was notified in January, 2011, almost four years after his provisional patent application, that the U.S. Patent Office had granted his application. The patent was published officially on April 12, 2011.
The Barrel Rack patent is a utility patent, one of three different categories. It takes longer to obtain than a design patent, which covers only the appearance of an invention, rather than actual design and construction.
Chet Bassetti is experienced in patent applications, having received 17 previous patents from his days as an electrical engineer for computer and telecommunications companies. Even given his background, Chet Bassetti said he chose to work with a patent-specialized law firm rather than submitting the application on his own or with a patent agent, because attorneys can translate the detailed explanation of a concept into legal terminology that will stand up to patent office arguments or in court if necessary. All 23 aspects, or "claims," of the Barrel Rack application were granted by the Patent Office.
"We are very pleased despite the long wait for this patent," said Chet Bassetti. "After all, wine barrels have been around for hundreds of years. To conceive of a new concept at this point and get a patent on that concept is doubly satisfying. Waiting four years is perhaps not so bad. The wine that we stored in our barrel racks aged beautifully during that time. Uncorking a bottle for the celebration of the patent certainly fits the occasion," he added.
For more information about the Barrel Rack wine storage products, visit the Barrel Rack's website, email customercare(at)thebarrelrack(dot)com or call 775-622-1363. See a news video of Chet Bassetti and the Barrel Rack at KRNV-News 4 coverage of unique green giving ideas. To view the Barrel Rack U.S. patent number 7922015, visit its U.S. Patent publication page. To learn more about the patent process, visit the U.S. Patent and Trademark Office patent process overview.
###