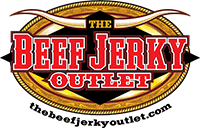 Troy, MI (PRWEB) May 03, 2012
Unique national franchise, The Beef Jerky Outlet, founded by business entrepreneurs Scott Parker and Paul Lyons, will open a new store front in the heart of Branson's entertainment district located at 2005 West Highway 76 on May 4, 2012.
Bob Hathaway is the proud new owner of the latest Branson franchised location and he is eager to open the doors for business. The Branson Beef Jerky store has the largest selection of beef, turkey and wild game jerky. The store offers free samples for those who like to sample a wide variety of flavors before purchasing. Bob says "The first time I walked into a Beef Jerky Outlet store I felt like a kid in a candy store". That is when Bob knew this was the right business franchise opportunity for him.
Walking into a Beef Jerky Outlet store, customers will be surprised by the wide selection of flavors. The bulk jerky is set out in authentic covered barrels for sale by the pound. Jerky in packs and really neat jars of jerky line the shelves. The flavors include everything from original to "blazin' hot" to jalapeno and honey barbeque. Paul Lyons, a founding partner of The Beef Jerky Outlet puts it best,
" When folks see the store their eyes light up; they want to get in and see what it's all about. They come inside and there are 200 or more different kinds of jerky, including exotics like alligator and kangaroo. We have some other items, too--sausages, popcorn, peanut butters--but make no doubt about it: Beef jerky is the primary focus."
The Beef Jerky Outlet has opened franchise stores at locations around the country. Many of the stores are located near strong tourist areas. In that respect, Bob Hathaway has picked a real winner in Branson, Missouri.
"Bob's going to do a great job in Branson," continues Paul Lyons. "All the ingredients are in place for a tremendous grand opening. Bob and his crew will soon be providing the unique, fun experience of the Beef Jerky Outlet to southeast Missouri.
About:
The Beef Jerky Outlet Franchise now has 12 active stores across the country. The Franchise is ready for business in most states in the continental USA, as well as Alaska and Puerto Rico. Beef Jerky Outlet stores offer an excellent opportunity for investors seeking a franchise business with high margin returns on moderate start-up costs. For complete information contact a member of our Franchise Team by visiting us at
http://www.thebeefjerkyoutlet.com/contact.php