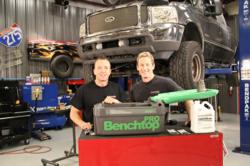 The BenchtopPRO solution is safe for your most important tool – your hands.
Atlanta, GA (PRWEB) April 25, 2013
As part of National Auto Care Month, The BenchtopPRO, an easy-to-store, self-contained parts washer that is green and really cleans greasy parts, wax-based lubricants and lots of "things" in the man garage, announced today its National Car Care Month "Tool Tips" featuring tricks of the trade from Truck U's Bruno Massel and Matt Steele. Truck U, seen on the Speed Channel, showcases monster-truck expert Matt Steele and master mechanic Bruno Massel in hands-on projects for off-roading and truck performance.
The BenchtopPRO monthly "Tool Tips" provide the PRO Blog readers tips for garage, car, truck, boat and motorcycle enthusiasts. For the April "Tool Tips," The BenchtopPRO team asked Bruno and Matt for tips on the best way to take care of "tools of the trade" which help keep your car or truck running smoothly.
National Car Care Month "Tool Tips"

Create a Storage System - Bruno uses several large tool boxes to store his tools. Matt adds, "always put your tools back where you got them. The easier it is to find them, the better."
Make a Tool Collection - Lots of Bruno's tools are hand-me-downs from his Dad, so many were bought before Bruno was born. The same goes for Matt, who also has some old tools that his Dad left him. Matt's Dad was really handy, so there's a lot of plumbing and house type tools as well; just goes to show you, when you buy quality, it can last generations.
Get Creative - Sometimes you don't have the tool you need. Once Bruno put duct tape on the back of a closed end wrench, so he could set the nut and hold it in place. It was a tight, blind spot and if he had dropped the nut he would have lost it. Matt has fixed his Yamaha Rhino with many strange, make-shift tools: the ink tube from a pen used on the fuel return line; cleaning spark plugs with grill brushes; using his hands to hold the intake assembly in place while riding down the trail because the coupler rotted out -- just to name a few.
Quality Counts – You're better off buying quality tools, especially if you want to keep them for a long time and plan to use them regularly. Don't waste your time or money on the cheap tools!
Be a Good Neighbor - Matt says that if you borrow a tool from someone, return it in better condition than it was before you borrowed it. Words to live by!
Take Good Care - You don't want the money you spend on tools to be a complete waste, so look for quality products to clean your tools. The BenchtopPRO utilizes a revolutionary solution that uses microbes to "eat" the dirt and grease. The self-cleaning (bioremediating) solution is a non-flammable, non-toxic degreasing cleaner engineered in their "dirt lab" to work at room temperature tackling the most challenging parts washing needs – even wax-based lubricants-- in an easy-to-store, self-contained washer. Even better, the solution is safe for your most important tool – your hands.
Spring is Coming - Get Prepared to Clean with Special Pricing
To help motivate early spring cleaning, The BenchtopPRO is offering a special Spring Cleaning sale price. Starting today until May 31st, and available at http://www.thebenchtoppro.com, The BenchtopPRO Spring Cleaning sale price is $299. This Spring Cleaning sale price also includes a 5-Year Warranty.
The BenchtopPRO comes kit-complete with the following:

The BenchtopPRO, the rugged, double walled unit with re-circulating pump and flow-through brush
(1) gallon of industrial-strength, non-hazardous CONCENTRATE BT5 Degreasing Solution; this powerfully engineered degreaser is pH neutral, non-hazardous, non-flammable, non-irritating and bioremediating
(4) MicroPRO Packs, the revolutionary microbial treatment with a healthy appetite for tough greases and oils
About The BenchtopPRO
The BenchtopPRO is manufactured by ChemFree Corporation, a subsidiary of Intelligent Systems Corporation, which is a publicly traded company (AMEX symbol: INS). The BenchtopPRO Bioremediating Parts Washer is an exciting "first" for the garage and small repair shop market. The BenchtopPRO combines the process of bioremediation with a revolutionary, non-flammable, degreasing solution engineered in their "dirt lab" to work at room temperature to tackle the most challenging parts washing needs – even wax-based lubricants-- in an easy-to-store, self-contained washer.
About ChemFree Corporation
Founded in 1993, and located in Norcross, GA., ChemFree manufactures the patented SmartWasher® Bioremediating Parts Washing System, ChemFree Corporation provides an alternative method to cleaning vehicle and maintenance parts without harming humans or the environment. ChemFree holds 27 patents—11 in the United States and 16 in other countries.
If you would like more information about this topic or the ChemFree product line, please contact Melissa Page-Hale at 800-521-7182 or mjpage(at)chemfree(dot)com