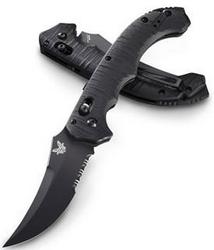 The Blade Shop assures its customers that they will get the lowest prices. The company is willing to match any lower price that is offered by its competitors, and it does this through its 120% price protection policy.
Knoxville, TN (PRWEB) February 2, 2011
The Blade Shop is recognized as one of the leading knife suppliers on the Internet with an extensive selection of knives to choose from. Knives that are sold in The Blade Shop are of the highest quality, and are very competitively priced. Shoppers can be assured that they will have a most satisfying knife-shopping experience.
The Blade Shop Announces Its 120% Price Guarantee
In order to assure that its customers get the lowest prices on purchased products, the company is willing to match any lower price that is offered by its competitors, and it does this through its 120% price protection policy. For shoppers who manage to find another website that sells the same product at a lower price, The Blade Shop will match the price and provide an additional discount of 20% of the price difference. This policy does not apply if the knives sold by the competitors are factory "seconds", used, or blemished, or are offered at promotional prices. Additionally, The Blade Shop also offers overstock and closeout products at surprisingly low prices.
Some of the knives that are available at The Blade Shop include hunting knives, utility knives, military knives, pocket knives, folding knives, and others. These knifes are made by well-known manufacturers such as Benchmade Knives, Art of War, Kershaw Knives, CRKT, Condor, Gerber, Microtech Knives, and others. Consumers can find information about the warranty policy of every knife manufacturer in the website. Besides knives, the Blade Shop also offers swords, machetes, knife cases, sharpeners, knife cleaning products, and tactical gear. Customers are entitled to a 30-day guarantee for every purchase that is made.
The Blade Shop customers can expect their orders to arrive within 48 to 72 hours. For average sized products that do not cost more than $125.00, shipping cost is just $6.00. Shoppers do not have to pay for shipping if purchase amounts to $125.00 or more. Second Day or Next Day shipping options are also available for shoppers who wish to receive their orders sooner. Keep in mind that The Blade Shop only ships within the United States.
The Blade Shop encourages legal ownership and use of knives, and it displays the knife laws of every state in its website. Shoppers need to be at least 18 years old to purchase the products that are available in the website. Some of the products can only be owned by people who are 21 years or older in certain states. It is important that shoppers read the knife laws in their local state thoroughly before buying a knife or any other product from The Blade Shop.
###