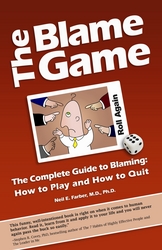 The Blame Game: The Complete Guide to Blaming, How to Play and How To Quit
Thiensville, WI (Vocus) October 5, 2010
Bascom Hill Publishing Group has officially released "The Blame Game: The Complete Guide to Blaming, How to Play and How To Quit" (Bascom Hill Publishing Group; ISBN 978-1-935098-35-5; October 2010; $15.95) by positivity researcher and psychologist Dr. Neil Farber. The book is the first complete guide to playing the world's oldest game, designed for novice and expert players alike.
"The Blame Game" is self-empowering; providing readers with the inspiration, knowledge, and tools needed to accept responsibility and gain control of their lives. Tracing the origins of the blame game all the way back to pre-historic times, this guide also explains how anyone can improve their health, well-being, relationships and careers by reaching beyond blame.
"This funny, well-intentioned book is right on when it comes to human behavior. Read it, learn from it and apply it to your life and you will never again pass the buck so easily."

Author of "The 7 Habits of Highly Effective People"
Dr. Neil Farber attained his B.S. degree in Psychology and doctorates in research and medicine. He is a motivational speaker and researcher in positivity, positive parenting, and conflict management. Dr. Farber is also involved in international medical missions for children to which a portion of all book profits will be donated.
For information, please call or email publicist Jessie King at or visit TheBlameGame.org.
###