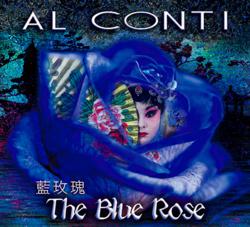 "The Blue Rose is certain to garner Al Conti a fresh assortment of accolades and awards. This elegant combination of piano, strings, and Asian instruments evokes images of love, grace, and mystery….Al Conti has created another musical work of art."
Los Angeles, CA (PRWEB) May 07, 2013
Even as he walked the red carpet at the GRAMMY® Awards in 2012 for Northern Seas "Best New Age Album" nomination, popular New Age artist Al Conti was musing over his next inspiration, the ancient legend of The Blue Rose. He had heard the story -- with its message of perseverance and true love -- as a child, and it had stayed with him over the years. It comes to life in his new album of the same name, released today.
Award-winning recording artist Diane Arkenstone complimented Conti's new work, saying "The Blue Rose is gorgeous! It is truly a breathtaking work of music and art. It has the grace and elegance of a work by Tchaikovsky and makes for a most enchanting, modern classic."
The enchantment springs from a famous Chinese legend about a Princess, a rose, and a quest for the unattainable. Faced with the prospect of an undesirable marriage, the Princess devises a plan: to marry her, a man must profess his love by finding the seemingly impossible…a blue rose, which simply does not exist in nature.
Translating the tale in a way that satisfied Conti took nearly two years; he composed, arranged, recorded and produced the album as an independent release on his own label, Shadowside Music. The album includes a few special tracks with guest artists Ann Licater on flute ("Bamboo Night Garden") and Hannah Beth Crary on fiddles ("Painted Vase" and "Last Suitor").
Sharing a bit of insight on the album, Conti says "With this album, I have explored another layer of my creativity. From the very first note I composed, The Blue Rose was a different kind of journey. While working, I felt a great deal of peace and serenity. I think the music became alive through what I was experiencing, the result being an uncluttered, simple beauty."
In previous releases, Conti successfully applied his new age/world fusion approach to tell the tales of The Iliad (Poeta), a Middle Eastern Heroine (Scheherazade) and the Norse gods (Northern Seas). A history-lover curious about other cultures, this award-winning multi-instrumentalist says that while The Blue Rose is more delicate, it is no less sophisticated than his bolder productions. In essence, it embraces a more complex female energy and perspective.
New age reporter Michael Diamond expresses appreciation for this concept album in his in-depth music feature story on Conti, saying "A recording like The Blue Rose is something I cherish because it tells a story, both musically and in the liner notes and artwork, taking you on an imaginative journey from beginning to end."
Fans of Conti's work appreciate the album's subtle shifts as it winds its way through the tale, from the opening track "The Princess and the Emperor" through pieces portraying the Princess's various suitors ("The Merchant's Rose", "The Blue Sapphire", "The Painted Vase) to her intrigue with a simple minstrel ("Minstrel's Song", "Last Suitor") and their loving triumph ("Heart in Bloom", "The Blue Rose"). While perfect for relaxation, the delicate instrumentation also lends itself to yoga and massage therapy.
Respected music writer and Mainly Piano founder Kathy Parsons says "The Blue Rose is certain to garner Al Conti a fresh assortment of accolades and awards. This elegant combination of piano, strings, and Asian instruments evokes images of love, grace, and mystery...Al Conti has created another musical work of art."
Conti's impressive recording career includes the highly-successful Northern Seas (2010), which garnered a GRAMMY Award nomination, made Amazon's Top 10 list for Best New Age Albums of 2010, and reached #2 in the Zone Music Reporter (ZMR) Top 100 chart in October 2010. His third album, Scheherazade, topped the ZMR Top 100 Chart at number one for three consecutive months, in October, November and December, 2008. The album also received four ZMR Lifestyle Music Awards nominations, including Album of the Year, and won Best World Album of 2008; it also headed many radios 'Top 10' and 'Best of' lists,' as well as charting #5 on the ZMR Top 100 Airplay Chart for 2008. His album Poeta was used as part of NPR's fundraising efforts in 2007 and his recording "Quest for Orpheus," from the same album, received a "Best of 2007" Award from Mystic Soundscapes Radio.
Hundreds of over-the-air radio stations and shows around the world play Conti's music, as well as, Sirius/XM, Music Choice, Pandora and more. His music can be purchased at both traditional stores and online retailers like Amazon.com, CDBaby.com, and iTunes. In the U.S., physical distribution is handled by CPI Distribution for mainstream stores, and by New Leaf Distributing Company for gift/specialty stores; for international distribution information, please contact Kevin Manion at Kmanion(at)alconti(dot)net.
Promotional campaigns for The Blue Rose include radio promotion by Ed and Stacey Bonk of Lazz Promotions (lazzpromotions(at)rogers(dot)com), public relations and partnerships by Beth Hilton at The B Company, and management by Kevin Manion.
To hear music clips of The Blue Rose and to learn more about Al Conti, please visit his official website at AlConti.net. He is also on Facebook and Twitter.
About Al Conti:
Al Conti is a GRAMMY® nominated composer, arranger, producer and multi-instrumentalist. Born and raised in Argentina, Al has traveled widely and lived in South America, and Europe, before settling in the United States. As an actor, he has appeared on television shows including the CBS daytime drama As The World Turns, in films, numerous radio and television commercials, and on-stage in theatre productions. Al supports numerous charities including Until There's a Cure (a foundation focused on AIDS/HIV awareness), The Leukemia and Lymphoma Society, as well as being a member of Artists for Human Rights, an organization founded by actress Anne Archer focused on promoting The Universal Declaration of Human Rights.