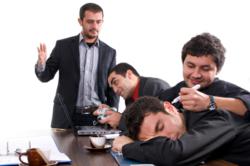 The Bob Pike Group is spot on with training. This is by far the premier training resource in the industry.
Minneapolis, MN (PRWEB) August 28, 2012
Ever have an important training session that was sabotaged by difficult participants? The Sleeper, the Texter, the Prisoner, or the Know-It-All? The behavior of one person reflects on the others and can derail your class. What do you do with side conversations, personal attacks, and war stories in your training sessions? While it is important to be sensitive to all participants, it is also important that the few don't disrupt training for the many.
Here are four tips on dealing with these side conversations:

Take preventive action. Placing people in small groups of five to seven may control these disruptions because these negative behaviors reflect on the group in which the disruptors are sitting.
For side conversations, assume the conversation is relevant and ask the persons involved to share it with the group - after you or whomever finish speaking.
For personal attacks, listen briefly, but don't take the attack personally. Acknowledge the viewpoint. If appropriate, disagree quietly and firmly. If the attack persists, firmly suggest that the two of you talk further at break.
For war stories, wait for a vocal pause. Summarize and, if possible, make an application to the topic at hand. Then move on to another participant or your next point, as appropriate.
The Bob Pike Group uses Participant-Centered instruction to show how you can minimize the behaviors of the difficult participants and create a positive and exciting program.
About The Bob Pike Group
The Bob Pike Group has provided train the trainer workshops and consulting services to individuals and corporations for more than 30 years. Bob Pike is the pioneer of the participant-centered training method and has a well-earned reputation as "the trainer's trainer." More than 125,000 people have gone through his Creative Training Techniques Boot Camp and more than 200,000 copies of his Creative Training Techniques® Handbook have been sold. There simply is no one in the training industry as well known and respected as Bob Pike. The Bob Pike Group trainers take those same methods and passion for learning and funnel them into interactive sessions in any training platform or mentoring format.
For details on The Bob Pike Group and Participant-Centered training please visit http://www.bobpikegroup.com.