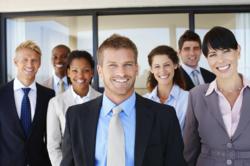 This is by far the most beneficial use of training time and dollars spent. This has immediate impact on my work and life outside of work. - Mr. Ballard, USAF AFPC, DPI Academy
Minneapolis, MN (PRWEB) May 31, 2012
The Bob Pike Group has created a dynamic suite of programs to develop managers and high potential employees.
Effective teams are critical to performance improvement in most organizations today. Yet they are often poorly managed or not even encouraged to develop. Coaching is a core competency in today's high performing workplace, yet most supervisors and managers have had little or no training. Poor performance often goes unchallenged in the workplace, with the hope it will somehow straighten out on its own.
Leadership training has declined over 11% in recent years, leaving a gap between the need for future leaders and those who are prepared to lead. Training increases productivity by 22.4%. In contrast, training plus coaching or mentoring increases productivity by 88%. Therefore, many organizations are rediscovering the need for a mentoring program to fill this gap and ensure the transfer of training.
The Bob Pike Group has developed a suite of Management Development Training Programs to address this need. These workshops are designed to help leaders, managers and mentors discover the keys to growing and developing their people. Management programs include: Business Presentations Skills, Coaching For Success, Creating High Performing Management Teams, Making Meetings Work, Mentoring For Success, Tools That Develop People and Productive Self-Management.
"We have all our training team certified through these key Bob Pike presentation and management skills workshop, to become expert at this skill. The requests and support we have from senior marketing and sales management is testament to them viewing our trainers as experts in this area, and is all owed to The Bob Pike programs." says Jim Trunick, Sr. Director, Corp. Training & Development, Allergan.
In-house customized versions of these workshops are also available.
For more information on these programs click here or call 800-383-9210.
About The Bob Pike Group
The Bob Pike Group has provided train the trainer workshops and consulting services to individuals and corporations for more than 30 years. Bob Pike is the pioneer of the participant-centered training method and has a well-earned reputation as "the trainer's trainer." More than 125,000 people have gone through his Creative Training Techniques Boot Camp and more than 200,000 copies of his Creative Training Techniques® Handbook have been sold. There simply is no one in the training industry as well known and respected as Bob Pike. The Bob Pike Group trainers take those same methods and passion for learning and funnel them into interactive sessions in any training platform or mentoring format.