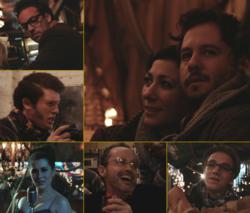 Help us bring this avant-garde adaptation of Puccini's masterpiece La Bohème to the big screen.
New York, New York (PRWEB) November 19, 2012
'The Bohemians', an exciting, new movie version of La Bohème, is now in the post-production phase and the producers are offering an opportunity to film fans, supporters of the arts and opera lovers, to become part of the endeavor at Kickstarter.
Turning to Kickstarter to gain additional support has worked for several notable projects, such as 'The Silent City', and now 'The Bohemians Movie' hopes to find that same fan-based support in order to complete the final stages of post-production.
The cast of the movie includes well-known performers as well as aspiring new opera singers like Israel Lozano, a three-time winner of Plácido Domingo's Operalia competition, and Suzanne Kantorski-Merrill, who have approached the project with an amazing passion. The film also relies on the contributions of a number of graduates from Julliard, the Academy of Vocal Arts and Manhattan School of Music, namely Adam Margulies, Jonathan Estabrooks, Claire Coolen, Tom McNichols, and David Robinson.
What is unique about "The Bohemians"?
The plan is to share the classic tale of La Bohème with a larger and more diverse audience, in the same way that Moulin Rouge! and Chicago were able to accomplish with their film renditions. Bringing the story of La Bohème to movie theaters worldwide will create a new generation of fans of operatic drama.
Please Visit the 'Kickstarter Project Page for More Information'
What do They Need and Why?
The project is in need of additional support to cover the costs of the soundtrack recording, the orchestra, sound and music mastering, and picture color-correction. This dilemma is in favor of the fan. Supporters are offered rewards and can pre-order the film and soundtrack through pledges. Other rewards for backers are producer credit or even a digital, personal serenade from members of the cast.
Get to Know the Team
Director and Producer José Luis R. Cortés:
José Luis R. Cortés is an independent producer, director and video-photographer from Spain with extensive experience in commercials, film, television and video production.
Mr. Cortés has produced, directed, and photographed the 25-minute documentary Orphans, and was the D.P. for the documentary 'Symphony', which won Best Documentary Feature at the Orinda Film Festival. 'Symphony' was originally commissioned by The Youth Orchestra of the Americas and Deutsche Bank and released in June 2003. He also worked on the second documentary called 'Legacy'.
With his associate Alvaro Domingo, he has produced the corporate image, as well as promotional video, for Plácido Domingo's Operalia "The World Opera Competition" and directed a documentary about the Washington National Opera's Domingo-Cafritz Young Artist Program.
He lives in New York City where he works with Alvaro Domingo on the development of music and movie productions. He has also written the screenplay entitled "Road to the Halcyon's Nest", which is currently in development.
Producer, Alvaro Domingo:
Alvaro Domingo was born in 1968 in New Jersey and was raised in Spain. His father is the well-known tenor Plácido Domingo. His very first participation in a film was in 1984 where he worked as a translator and a production assistant in the movie version of Carmen side by side with Patrice Ledoux. Domingo's interest in movies and films led to him studying film at New York's Bard College.
In 1992, he became the Co-founder of Carrasco & Domingo Films, which produced a historical drama that takes place after the Spanish Conquest of Mexico in 1521 called The Other Conquest.
Producer and Sound Engineer, Rafa Sardina:
Los Angeles based, Eleven-Time Grammy-Winner Producer, Mixer/Engineer, Rafa Sardina has built an eclectic and impressive client list in recent years: Stevie Wonder, Lady Gaga, Michael Jackson, Rodrigo y Gabriela, Plácido Domingo,Celine Dion, Harry Connick Jr., Josh Groban, Mariah Carey, Shakira, Dr. Dre, Dru Hill, Armando Manzanero, Jessy Moss, Luis Miguel, Paco de Lucía, Chris Botti, Susan Boyle, Zaz, Sheryl Crow, Soul Coughing, Abeyance, Beto Cuevas, Kevon Edmonds, Kina, Eric Marienthal, Juanes, Angie Stone, René Pérez from Calle 13, blues legends Al Blake & Fred Kaplan, Juan Gabriel, Alejandro Sanz and Macy Gray among many others. He has received 28 Grammy Nominations, both American and Latin, for his work with Stevie Wonder, Luis Miguel and Alejandro Sanz.
Cast Member and Producer, Adam Margulies:
Adam Margulies, opera singer and actor, has also written a play that is based entirely on the Dichterliebe song cycle by Schuman, currently in pre-production, as well as a Shakespearian based script that is based on Midsummer Night's Dream. At the moment, he is working and living in New York City and has just returned from performing in the XENAfest summer festival in Prague. He also co-wrote the screenplay "Road to the Halcyon's Nest."
Producer, Matthias Schmitt:
Matthias Schmitt used to work as a financial professional but is now a full time producer and filmmaker. He started his producing career in 2010 when he worked as the social media representative and associate producer of Space Race Kids, an animated web series for preschoolers. The show is currently in its production phase and is scheduled to be released on TV in 2014.
He also produced the post-apocalyptic web series, 'The Silent City' with Rubidium Wu, which was also funded by fans through Kickstarter and was shot on locations in and around New York City.
For more information about 'The Bohemians' please call 804-502-4580 or visit The Bohemians Movie.
Press Photos Available Here