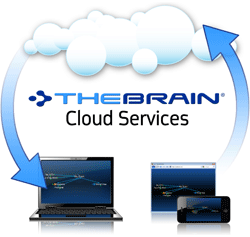 There are many options that let you backup and share files but very few that let you archive and access your own unique perspective and way of thinking.
Los Angeles, CA (PRWEB) May 07, 2013
TheBrain Technologies, the leading provider of dynamic visualization and knowledge management software, announced its newest release to its online secure cloud services for information management and team collaboration.
TheBrain Cloud Services, also known as WebBrain.com, lets users create and synchronize their digital Brains online and across multiple devices. Digital Brains are a collection of users' ideas, notes, files and link relationships all organized and related the way each user thinks.
TheBrain Cloud Services is host to millions of digital Thoughts from users around the world. There are no two Brains that are the same. Users can have one master Brain for everything or create topic specific Brains for different projects or subject matter. TheBrain software's unique approach to information organization and data management enables users to create and link together thousands of digital Thoughts. Users can keep their Brains private, invite and collaborate with others or publish worldwide from TheBrain Cloud.
Public Brains may be viewed at http://webbrain.com/explore
"Having a reliable backup and universal access to all your information is key, but what's even more important is the ability to contextualize and have a meaningful way to see and find the right information" said Harlan Hugh, Chief Technology Officer and Co-Founder. "There are many options that let you backup and share files but very few that let you archive and access your own unique perspective and way of thinking."
TheBrain Cloud release works in tandem with its award-winning desktop software. Users can capture ideas and organize content on their desktop in their local Brain, as well as online in TheBrain Cloud. TheBrain Cloud Services update new features include:

Increased Performance on Cloud Brains – TheBrain Cloud server has been re-architected to provide optimized response time with each Thought click. Unlike conventional mind maps each Brain created can become a powerful database with hundreds of thousands of topics. There is no limit to the number of Thoughts or links you can make. With faster navigation and an updated backend users can visually navigate and retrieve related information even faster.
New Authoring Features for Easy Information Integration – TheBrain Cloud authoring is expanded to include many popular desktop features. For example, users can now drag and drop files and Web pages to upload instantly into their online Brains. Also, the online notes editor now supports checkboxes for easily creating to-do lists.
Online Thought Typing and Tagging – TheBrain lets users Tag and Type their ideas with additional attributes for improved context and enhanced semantic meaning. Thought Tags and Thought Types can now be added, removed or created through a new context menu in the Web client. Tag reports can also be viewed online.
Expanded Web Client Preferences – Digital Brains are fully customizable. Users can set each Brain with its own wallpaper, Thought colors, icons and images to enhance information viewing. TheBrain Cloud now offers a wide range of preferences. Users can change colors, wallpaper, fonts, and hint options directly from the Web client. Global Settings also let users specify a preferred font size for all Brains.
TheBrain Services Pricing
TheBrain Desktop is offered in two editions: Free and Pro. TheBrain Free is offered at no charge. The Free edition does not expire and lets anyone link ideas and Web pages on their desktops. You can purchase TheBrain Pro as a license only for $219 or the license and service combo for $299, which includes: a software license, upgrades and cloud services. New users get a complimentary 30 day trial of both the desktop software and cloud services. Users can continue free public sharing of any Brain or add Cloud Services for private information access and unlimited upgrades.
TheBrain offers an all-inclusive software upgrade and cloud services plan to existing users for $159 per year. TheBrain Service Plan includes
All upgrades as long as your subscription is valid
Online access of your Brain from a Web browser
Backup of your Brain online automatically
Synchronization of your Brain across multiple machines
For more information on TheBrain Cloud Services plan, visit thebrain.com store, call 310-751-5000 or email sales(at)thebrain(dot)com
About TheBrain Technologies
TheBrain® Technologies helps people see, share and find information faster. TheBrain Pro Software helps users organize and capture ideas, projects and information on their desktops and synchronize their digital knowledge hubs online or to any machine cross platform.
Over half of the Fortune 100 use TheBrain, now downloaded by over a million people. TheBrain's Government customers include the Department of Defense, Navy Special Warfare, as well as multiple state and municipal organizations.
Everyone is encouraged to download TheBrain 7 at http://www.thebrain.com to visualize their thinking or email info(at)thebrain(dot)com for more information.
TheBrain and WebBrain are trademarks or registered trademarks of TheBrain Technologies LP. All other corporate names or trademarks stated herein are the property of their respective companies.