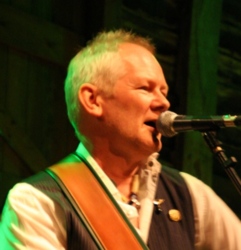 Branding lies at the heart of business success and it is not difficult to do, providing you understand some basic truths.
(PRWEB UK) 28 May 2013
Brand expert, business author and banjo entrepreneur Simon Middleton will be sharing the secrets of creating an effective small business brand with visitors to The Business Show at ExCeL London on Friday June 7th.
Middleton is one of the key speakers at The Wiley Startup School in Seminar Hall 17 at the show, and will be speaking at 2pm.
Middleton is the founder of the UK's only banjo manufacturer The Great British Banjo Company, and author of small-business branding guide 'Build A Brand In 30 Days'.
He will show participants how to create, manage and communicate a brand profoundly and effectively. Simon's talk will cover the essential strategies for creating a small business brand which is authentic, distinctive and compelling.
Simon's book, as well as books by other bestselling business authors published by Wiley, will be available at the publisher's Business Startup Bookshop at great discounts. Visitors also have the chance to win an iPad.
The complete Wiley seminar schedule can be seen on the publisher's website http://www.thisiscapstone.com/BSU
Simon Middleton is the author of three popular books on branding and marketing and is well known as a commentator on brand issues on TV and in the press. He has appeared on Newsnight, Sky News, CNN, Bloomberg TV, and on numerous BBC radio programmes.
Simon Middleton commented: "I am delighted to be speaking at The Business Show to people eager to start businesses of their own who are keen to learn. Branding lies at the heart of business success and it is not difficult to do, providing you understand some basic truths."
The Business Show has now evolved into the largest event of its kind in the UK – and is a hive of activity for entrepreneurs and small businesses, spanning sectors far and wide. It hosts over 250 seminars delivered by business experts, 350 exhibitors offering the latest products and services to help you progress your business, 12 interactive workshops and 4 networking features.
The Business Show is packed with the resources and contacts you need for your successful business start-up or growth, within any sector. As well as Simon Middleton, visitors can hear from the UK's biggest names in business such as James Caan and Doug Richard along with other experts like Clive Rich (The Negotiator), Lucy Tarleton (London Stock Exchange Director), Richard Cross (The Retail Expert), Levi Roots (Reggae Reggae Foods), Ben Hunt-Davies OBE (Olympic Gold Medallist & Performance Coach) and many many more.
With 25,000 visitors to the event, there is no shortage of businesses to meet, network with and bounce ideas off. The event is designed to make it really easy to network, with a variety of networking features from speed networking to more structured round table discussions on hot topics.
Whether you're just starting out or growing your business, be sure to book yourself into the biggest business show, in the UK.
COMPANY INFORMATION:
The Great British Banjo Company and Banjos Direct are based at the acclaimed manufacturing innovation campus Hethel Engineering Centre just outside of Norwich, Norfolk, UK.
The privately owned business was founded by brand adviser, business author and musician Simon Middleton and has grown rapidly to become the UK's best known banjo specialist retailer.
The Islander Ash Leaf was designed by Simon Middleton and the acclaimed banjo craftsman Malcolm McLeod, who is head of production for The Great British Banjo Company.
For further information visit: http://www.banjosdirect.co.uk.