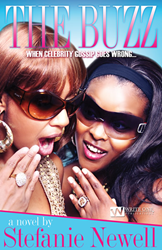 (PRWEB) August 04, 2009
Chicago, IL (PRWEB) August 4, 2009 -- Freelance writer and entertainment blogger Stefanie Newell has penned her debut novel The Buzz: When celebrity gossip goes wrong. The Buzz is the story of Ebony Jenkins an Internet-addict and celebrity gossiper who despite her obsession with gossip, hates everything pop culture. A successful hairstylist and salon owner, she has what most women are seeking - a good looking devoted boyfriend, a flourishing business and a beautiful little girl. But what people don't know is how she mixed hard work and deception to maintain the celebrity lifestyle she tries to emulate. Ebony's living the life or so it seems until she suspects her up and coming rapper boyfriend Buzz could be dating the newest R&B phenomenon Arika. Ebony's obsession with celebrity gossip and dislike of all things popular in the media fuels her hatred for Arika and sends her on an all out Internet mission to ruin Arika's blossoming career. But as she's swept up in exposing the flaws of Arika and maintaining her faux celebrity lifestyle, Ebony uncovers some skeletons of her own.
Of her idea for The Buzz, Stefanie notes, "Television shows like The Insider or websites like Perez Hilton, Global Grind and TMZ, receive an inordinate number of hits because people want to know what's going on in celebrities' lives. The good, the bad, and the gossip. People want to know what celebrities are wearing, what they are driving, and what clubs they are frequenting. Celebrity gossip has a whole new audience because of the Internet. Anyone can make up gossip and it can literally be all over the world within minutes. I thought it would be interesting to tell the story of the person sitting behind the computer spreading the gossip. Who is this person? Why is he or she like this?"
Praise for the novel has come from various sources including Panache Report, Urban Reviews, and J'adore Magazine. The managing editor of CollegeNews.com had this to say about The Buzz, "This was a really interesting novel. It kept my interest the whole time and the way that it's formatted, by having different characters with their own chapters, made it different and a unique read. At first, I really liked Ebony but as the story developed, it made it harder and harder to like her. Nevertheless, the way it was written, you always wanted to like Ebony, for her to do something that would redeem her, but that never happened. So it was an interesting turn how at first all the love was for Ebony but then it slowly leaked away from her and went to the other characters."
Note To Media - For book requests, please forward your name, media outlet and mailing address to Erin Mitchell. Stefanie Newell is also available for interviews and speaking engagements.
The Buzz: When celebrity gossip goes wrong…a novel by Stefanie Newell is currently available for $14.95 http://Amazon.com. First edition. 5 ½ x 8 ½, 268 pages. ISBN 978-0-9821484-0-2.
###