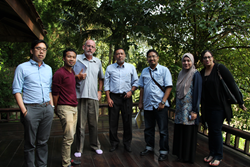 (PRWEB) September 15, 2015
The Cabin Chiang Mai, Asia's leading addiction treatment centre, played host to a group of psychiatrists from Malaysia on 22nd August, 2015. The group, most of whom are training in addiction psychiatry at Hospital Kuala Lumpur, were on a study visit to learn how addiction is treated in private and state facilities in Thailand.
The psychiatrists chose The Cabin Chiang Mai for its highly effective, evidence-based treatment model and its commitment to sharing knowledge and research within the addiction industry. The other facility they visited was the state-run Thanyarak Institution for Drug Rehabilitation.
At The Cabin, the group of seven began their visit with a tour of the centre's primary care facilities – which include group therapy rooms, a medical infirmary, meditation centre, outdoor fitness centre, swimming pools and a restaurant.
They were then given a presentation on how The Cabin's unique "all addictions" treatment model, called Recovery Zones, works. This was followed by a client demonstration on the use of Mind maps – a technique used to creative cognitive behavioural change.
The Cabin's Recovery Zones model treats both chemical (drug and alcohol addictions) and process (sex, gambling, etc.) addictions. The model features the most effective treatment methods known today, such as Cognitive Behavioural Therapy (CBT), 12 Step techniques and Mindfulness, which have been modified and integrated into a special programme to achieve recovery in a shorter time span than traditional methods.
This secular and culturally adaptable treatment programme, which includes relapse prevention therapy and dedicated aftercare, draws clients from all over the globe as The Cabin Chiang Mai is able to offer world-class treatment and accommodation at approximately 1/3 of the rates quoted by similar facilities in the West.
For more information please contact The Cabin Chiang Mai directly or their PR representative Edelman Healthcare at:
The Cabin Chiang Mai
Reeya Chaicharas, PR Manager
+66 (0) 80446 8850, reeya@thecabinchiangmai.com
Edelman Healthcare
Smitha Ramamurthy, Account Manager
+61 (02) 9291 3368, Smitha.Ramamurthy@edelman.com
About the Cabin
The Cabin Chiang Mai is Asia's most respected inpatient drug and alcohol treatment center, with two facilities and a secondary treatment Sober House located in Chiang Mai. Since 2010 the Cabin has treated over 1,500 men and women from around the world with a program completion rate of 96% and a recovery rate amongst the highest in the world. A fully inclusive 28 day program at The Cabin Chiang Mai costs $14,000, about a third of the cost of private rehabs in the West.
The Cabin Chiang Mai is part of The Cabin Addiction Services Group, a leading international addiction treatment provider with inpatient and outpatient centers across Asia Pacific.