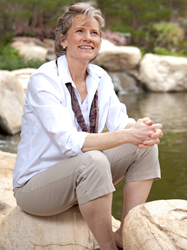 A succinct mission is a statement of clarity, and clarity breeds power.
(PRWEB) August 27, 2014
Jackie Woodside is a pioneer and leader in the human potential movement. She is the popular author of 'What If It's Time for a Change?', 'Conscious Entrepreneurs', as well as 'Calming the Chaos', soon to be released by Next Century Publishing. Jackie's infectious passion has made her a highly-sought-after motivational speaker, and she is often asked to address groups with her messages of possibility and inspiration. She is the founder of the new school of thought that maintains the precept that, "Anyone can learn to live in the realm of miracles." Her directives include helping people in "becoming the least-stressed most productive person you know" as well as looking outside of conventional wisdom to find individual life experiences and skills.
Today, Jackie is speaking on a podcast by Evelyn Foreman, "The Call of the Spirit." This podcast regularly features experts in various areas of spiritual development and, in the past two weeks, has featured Mark Nepo and Wayne Dwyer. Jackie will address her own path to success as a spiritual teacher and author.
Jackie Woodside is an active leader in the Unity Church movement and is a current board president of Unity on the River in Amesbury, Massachusetts. She is an advocate of New Thought and is frequently called upon to speak to Unity congregations throughout the country; in addition she is teaches and trains Unity ministers for Unity Worldwide Ministries. She is a torchbearer who illuminates freedom and fulfillment in a transformed world and helps businesses, professionals, organizations and spiritual communities identify and pursue their own missions in line with their values, as well as increase their productivity. For more information on Jackie's involvement with Unity see http://jackiewoodside.com/unity-church-programs/.
Jackie's forthcoming book, Calming the Chaos: A Soulful Guide to Managing Your Energy Rather Than Your Time, is full of advice for living a life full of promise and energy without the chaos and stress so inherent in modern life. Jackie is a trained psychotherapist as well as a Certified Professional Coach and Energy Leadership Master Practitioner, so her words are grounded in extremely practical roots and can be applied to almost any person or organization. Calming the Chaos is due to be published by Next Century Publishing on January 27, 2015.
About Jackie Woodside:
Jackie Woodside is the founder of the Woodside Wellness Institute, a holistically-oriented center offering coaching, spiritual retreats, professional development training and consciousness-based psychotherapy. Jackie created a spiritually-oriented coaching program entitled, "The Curriculum for Conscious Living" which includes three courses: Life Design, Life Mastery and Living a Transcendent Life.
Jackie leads spiritual retreats and has spoken at numerous Unity churches around the country. She delivered her first TEDx talk in 2012 at TEDxWaldenPond. She was a featured speaker at the Unity Worldwide Ministries Eastern Region Conference in 2010 and 2013, as well as speaking at the national Unity People's convention (2012) and was a featured trainer in the Association of Unity Churches Enlightened Leaders Program (2011). She has taught at the Unity Institute and Seminary as well.
Jackie is an Amazon Best Selling author of a new book entitled "What If It's Time for a Change?", a contributing author in the award-winning book "Conscious Entrepreneurs," and has been regularly contributing author to Unity Leaders Magazine as well as The New Face of Leadership Magazine in a column called "Coaches Corner." Her second book is due out in January 2015 and is entitled "Calming the Chaos: A Soulful Guide to Managing Your Energy Rather than Your Time."