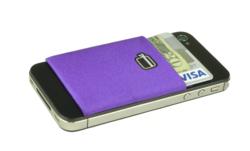 "It's simple and it just works" says one user. "I just don't need a bulky wallet anymore."
Sunnyvale, CA (PRWEB) October 02, 2012
Those who stuff their wallets like filing cabinets are certainly not alone. CardNinja designer Kumar Jambunathan, a former bio-medical device engineer, says, "people lug around bulky wallets filled with old receipts, or purses packed with credit and loyalty cards. How much of it do you actually need to carry all the time?"
The future of mobile device based payment promises to eliminate the need for a wallet or purse entirely, but widespread availability is a decade away. Co-founder Sunder Jambunathan adds, "The CardNinja is an ultra-slim wallet that works with iPhones (including iPhone 5), Androids, BlackBerries and nearly every smartphone, and will streamline your life every day. The ability to walk out of your house holding just your phone combined with a CardNinja is really liberating".
Women have also found the CardNinja to be extremely useful. A young woman working in the biotech industry who was among the beta testers mentions, "My phone, a credit card and a driver's license…it's all I need to carry."
And it's not just twenty-somethings that love the concept. Bill Mulvey, a 56 year old man from Massachusetts was introduced to the product by his daughter. He was so excited by the idea that he gave up his wallet and flip phone and switched to a smartphone wallet - the CardNinja. "It's simple and it just works," says Mulvey.
CardNinja was created to help men and women simplify their lives by streamlining what they carry. CardNinja products are designed and manufactured in the USA.