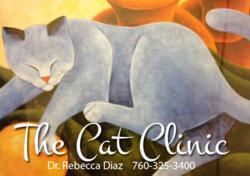 Practice owner, Dr. Rebecca Diaz explains, "We identified the need for feline only veterinary care locally, and we are excited for the opportunity to better serve our feline-friendly community."
Cathedral City, California (PRWEB) January 18, 2012
The Cat Clinic, now open at the Rio Vista Shopping Center on Landau and Vista Chino in Cathedral City, is pleased to welcome visitors to an Open House on Sunday, January 22, 2012 from 10am to 2pm, in celebration of the grand opening of the area's only feline veterinary clinic.
The Cat Clinic provides quality, compassionate feline friendly veterinary care with the special needs of cats in mind. The veterinary experience can be stressful for cats. Adding to that stress is the mixed population of dogs and cats at the same clinic. Sadly, some cats may not get the adequate or routine veterinary care they need and deserve simply because the experience of bringing them to a veterinary office is distressing to the owner. By providing a unique service to cats and cat owners, Dr. Diaz and the staff at The Cat Clinic strive to create a secure and quiet environment, thereby providing a pleasant experience for both the cat and pet owner.
Practice owner, Dr. Rebecca Diaz explains, "We identified the need for feline only veterinary care locally, and we are excited for the opportunity to better serve our feline-friendly community."
The Cat Clinic has also launched a new website, http://www.catcitycat.com including feline focused articles, videos, and downloads addressing topics such as how to prepare your cat for a low-stress veterinary visit, and helpful tips when bringing your cat to the veterinarian. The website has coupons and a mailing list feature for cat owners to sign up to stay informed with the latest cat health news and information. By visiting the website and following The Cat Clinic on Facebook and you can also receive even more exclusive savings and coupons.
The Cat Clinic is located at 67870 Vista Chino Cathedral City, California 92234. Hours are Monday: 8 am – 6 pm, Tuesday: 8:30 am – 4:30 pm, Wednesday to Friday: 8:30 am – 5:30 pm and Saturday: 9 am – 1 pm. Phone: 760-325-3400.
For more information please contact Dr. Rebecca Diaz - The Cat Clinic 760-325-3400 thecatclinic30(at)yahoo(dot)com
###