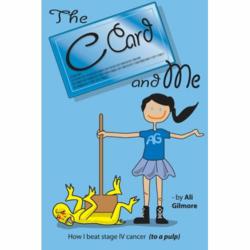 This book should be in every doctor's office and a part of every cancer patient's care package.
(PRWEB) May 09, 2012
In a sea of reports of death by the hand of this disease, one voice causes a ripple by shouting back "Hell no, not me~". The C Card and Me is the true to life story of how one self proclaimed couch potato turned a daunting diagnosis into an inspiring, humorous and somewhat irreverent tale of triumph over stage IV cancer. The book is written in plain speak, as a conversation between herself and someone who's been newly diagnosed. With her refusal to follow customary grammatical rules, such as her fondness of the tilde vs the exclamation point and a propensity to swear, she brings a certain authenticity and character to the read as she shares her insights, anecdotes and lessons learned to help smooth the road ahead for those dealing with cancer and for their loved ones.
When asked what inspired her to write the book, she responded, "The day I was diagnosed my head was reeling. Man, how I wish someone had handed me an insider's guide like this from day one. One that I could've read in a day, that would've calmed my racing heart and replaced the fear and trepidation we were all feeling with hope and understanding."
Her mission: "to remove fear from the equation and relegate this punk-ass disease to the ranks of others that are now mere shadows in our history."
This Amazon customer review sums it up by saying, "This book should be in every Doctor's office and a part of every cancer patient's care package. It's a well written account of a woman's journey through the illness and the story of her triumph of over the big mean cancer. Her story is told with humility and wit and unvarnished truth. If you've been diagnosed, read the book. If your loved one has been diagnosed, read the book. If someone you know has been diagnosed, give them the book. It is clear that her healing was fueled by more than the medication she was given, it was fueled by determination, knowledge, the love of friends and family, and by hope. Well done!!!" - Gail Nigro
The C Card and Me is now available on Amazon.com and the ebook is available exclusively on Amazon Kindle and in the Amazon Kindle Owner's Lending Library. You can find out more about the book at: http://www.theccardandme.com and on The C Card and Me Facebook page.
About Ali Gilmore
Ali Gilmore is a freelance photographer, singer/songwriter and professional geek. Originally from Seattle, Washington, she now resides in the coastal town of Oceanside, CA. Discover more about Ali on her website: http://www.aligilmore.com
###