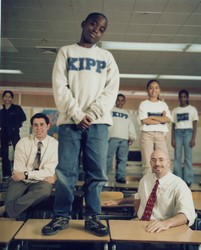 We are pleased that this recognition affords us the opportunity to assist them in a meaningful way. Maimonides said that the highest form of giving is to help someone learn what they need to know in order to be self-sufficient; that is the goal of KIPP.
New York, NY (PRWEB) April 7, 2009
As President Obama declares his commitment to invest in innovation in American schools and close achievement gaps, The Charles Bronfman Prize will recognize two education trailblazers who exemplify pioneering leadership in this field.
Mike Feinberg, 40, and Dave Levin, 39, co-founders of the Knowledge Is Power Program (KIPP), will be awarded the 2009 Prize for their vision in establishing a national network of tuition-free, open-enrollment, college-preparatory schools that have demonstrated that it is possible to close the achievement gap in low income communities across the country. While fewer than 1 in 5 low- income students go on to college nationwide, KIPP's college matriculation rate stands at over 80 percent.
"When the kids come to school there are 101 daily challenges that can get in the way of their learning and succeeding in school and in life," noted Feinberg. "Our perspective is that if there are 101 daily challenges, we need 101 daily solutions. We look to widen our sphere of influence so that whatever challenges KIPP's students and families face, either we can help them directly, or we can find others in the community who can."
Ninety percent of KIPP's students are African American or Latino; 80 percent are from low income homes. The expanding KIPP network (http://www.kipp.org) includes 66 schools in 19 states and the District of Columbia, and serves over 16,000 students. KIPP is committed to grow its network to 100 schools by 2011. By concentrating its schools in underserved neighborhoods, the KIPP network has the power to transform disadvantaged communities into hubs of opportunity.
Feinberg and Levin were selected for this year's Prize in large part for the boldness and scope of their vision and for the far-reaching promise of the KIPP model.
"The Prize recognizes individuals whose vision and impact are informed by the same values to which our father, Charles Bronfman, has dedicated his life: social justice, and investing in the next generations," said Stephen Bronfman, speaking on behalf of the Prize Founders.
"Mike and Dave are challenging educators around the world to rethink education policy. With their audacity to confront years of educational neglect and push past those who embraced the status quo, these two young visionaries are bringing about game-changing results," he continued. "Theirs is a remarkable accomplishment deserving of recognition and praise".
KIPP is underpinned by a partnership between students, parents and teachers each of whom signs a Commitment to Excellence: to spend more time in the classroom including weekends and summers; to commit to a rigorous college-preparatory curriculum; and to rely on a dedicated corps of teachers available by cell phone in the evenings for extra help with homework.
"Fundamental to our success has been building a remarkable team of teachers, students and parents who are committed to a common goal, and a relentless focus on building the character and academic skills that our kids will need for success in college and in life," explained Levin.
"We make promises to the students that we will do whatever it takes to help get them to and through college, and for us, promises to children are sacred," added Feinberg.
"Recognizing KIPP's achievement is a fitting tribute to Charles Bronfman, who has a 20-year record of investing in innovative models of education to tackle a root cause of poverty at its earliest stage," remarked Jeffrey Solomon, President of The Prize. "KIPP's success in directing kids towards college is planting seeds for future opportunity and development."
"The road that Mike and Dave have paved from underserved communities to university campuses is a road from poverty to economic opportunity," noted Charles Bronfman. "Access to more rewarding futures, combined with the KIPP-instilled commitment to community, has the capacity to revitalize our lower income communities and inspires young people to build a lifetime of accomplishments.
Praising the potential impact of the Program's model, James Wolfensohn, former President of the World Bank and Chairman of the Prize's selection committee, said on behalf of the judges: "KIPP addresses the most pressing global social need today, providing access to hope and opportunity through education. Feinberg and Levin's model can be expanded to aid communities struggling to educate children in villages, towns and cities around the globe, with great prospects for improving their access to jobs and economic advancement."
Indeed, international educators are taking note. In a letter of support to the Prize, Michael Melchior, Chairman of the Israeli Knesset (parliament) Education Committee said, "The impact of KIPP in transforming the lives of children in under-resourced communities and redefining the notion of what is possible in public education has inspired me to explore the potential for using this learning system in Israel."
Professor Karol Musher of Baylor College of Medicine, a nominator of Feinberg and Levin, said, "Fifty years from now, we will look back on American education in the first decade of the present century and recognize that from its beginnings in a single cramped classroom in Houston, Texas, the work of Michael Feinberg and David Levin had a major, transformative impact on the course of public education in the United States and perhaps many other parts of the world."
The Charles Bronfman Prize is accompanied by a $100,000 award. Underscoring their commitment to KIPP's ideals, Feinberg and Levin will share a portion of the Prize award to fund the development of a KIPP-inspired program in an underserved community in northern Israel, which will ultimately serve both Arab and Jewish students.
"We were profoundly impacted by our meetings with amazing people all over Israel who are working for a better tomorrow," they said. "We are pleased that this recognition affords us the opportunity to assist them in a meaningful way. Maimonides said that the highest form of giving is to help someone learn what they need to know in order to be self-sufficient; that is the goal of KIPP."
Feinberg and Levin are the fifth recipients and the first team to receive The Charles Bronfman Prize. Upon learning of their selection, Levin and Feinberg said: "There are lots of KIPPsters big and small, and this is a great acknowledgement of what all of us are trying to achieve. The Prize will shine a light on the tremendous efforts being made day in and day out by a remarkable group of kids, parents and teachers across the KIPP team and family."
The recipients continued, "The fact that our efforts to empower young people are being recognized by a Prize honoring Charles Bronfman, a man renowned for nurturing next generations, is truly an honor for us."
The 2008-2009 Prize Cycle
Nominations for the 2009 Prize came from 16 countries and included nominees in fields of social justice, co-existence, interfaith dialogue, conflict resolution, human rights, education, medicine and science, alternative energy, gender equality and Jewish spirituality. Nominees ranged in age from 29-50. For more information about prior recipients and their accomplishments, please visit http://www.TheCharlesBronfmanPrize.com.
About The Judges:
Recipients of The Charles Bronfman Prize are selected by a distinguished international panel comprised of Rosalie Silberman Abella, Supreme Court of Canada; James D. Wolfensohn, former President of the World Bank; and Dan Meridor, former Israeli Minister of Justice and Minister of Finance.
About The Founders:
Ellen Bronfman Hauptman and Andrew Hauptman together with Claudine Blondin Bronfman and Stephen Bronfman, founded The Charles Bronfman Prize in honor of their father. They are the Trustees of The Charles Bronfman Prize Foundation, a United States 501(c)(3) corporation headquartered in New York, which administers the Prize.
# # #