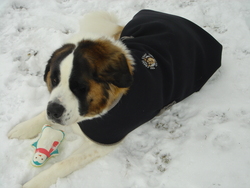 "Samson just came in from a walk with my husband and he had his coat on.. Not because of the cold but the RAIN.. It kept him from getting soaked all I had to do is wipe his feet the rest was dry ! Love this coat!!"
Farmington Hills, MI (PRWEB) April 13, 2011
The Chase Coat For Big Dogs, LLC is proud to announce the launch of its new website and its product, The Chase Coat Classic.
The Chase Coat Classic uses only the highest quality materials and workmanship. The coats are designed for exceptional fit, ease of movement, and maximum durability. There isn't another coat on the market that stands up to Chase's rigorous standards. The Chase Coat will keep dogs warm and dry in the most severe weather. Features a tough water- and wind-repellent Neoprene® shell, warm polyfill insulation and a soft, plush Polartec® Classic fleece lining. These coats have received excellent feedback not only for warmth but, also in keeping dogs dry in the rain and snow. These Coats are excellent for Spring, Fall and Winter.
"This has been a labor of love and we are very excited and proud," says Michele Green, creator of the Chase Coat. "The handmade Dog Coats for the Very Large Breed was inspired by our baby Chase who lost his fight with cancer during Michigan's harsh winter and his sister Madison (a St. Bernard, who simply did not like to be wet from the elements nor cold and enjoyed laying out in the sun) who also lost her fight with congestive heart failure."
Both Chase and Madison received excellent care from Green's wonderful doctor and friend, Dr. Duane A. Kimmey, DVM. In January of 2007, Chase was rushed into Dr. Kimmey's office and underwent emergency surgery, which ultimately resulted in the removal of his spleen. The Michigan weather that year was simply arctic, remaining in the negative teens for months. Since Chase was short haired, shaved from surgery, had an extensive incision, he did not fare well in the cold. Green researched to try and find a coat large enough to fit Chase, as he weighed well over 100 pounds, was extremely tall with an unusually broad chest. She was unsuccessful in her attempts to find a coat large enough to fit Chase's build and made due with large sweat shirts fitting him only by rolling up the sleeves and tying the waistband around him. Yet it was during this crucial recovery time that she took Chase's measurements, as well as those of his sister's Madison and the idea of The Chase Coat For Big Dogs was born. Although, Chase would not ultimately see the vision turned into reality as he was diagnosed with an aggressive blood cancer and he was gone a short time later, the Green family's love, care and compassion shows through on the coat that bears his name. "This is Chase's gift to your special pet and we hope you enjoy," says Green.
Check out the Chase Coat at http://www.ChaseCoat.com for full product description and in the "About" tab for the full story about Chase. Green has also created a Face Book Fan Page for "The Chase Coat For Big Dogs, LLC", which can be found here: https://www.facebook.com/#!/pages/The-Chase-Coat-For-Big-Dogs-LLC/143757165682465 (or by simply by typing in the Face Book search box "The Chase Coat For Big Dogs, LLC")
Green would really appreciate people stopping by "The Chase Coat For Big Dogs, LLC" Face Book Fan Page and give it a "Like" to help spread the word and support US Small Businesses.
Special note:
Dr. Kimmey formerly owned and operated the popular North Metro Vet Hospital while simultaneously writing an equally popular Detroit News column, "Ask Dr. Kimmey." (Currently, Dr. Kimmey is a staff vet at The Animal Doctor in Cary, Illinois).
The Chase Coat For Big Dogs, LLC.
Michele Green
Farmington Hills, MI 48336
P: 248-957-8573
F: 248-479-0365
E: TheChaseCoat(at)twmi(dot)rr(dot)com
###