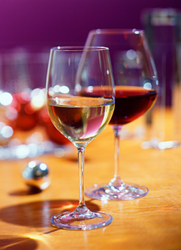 We want to excite our clients with something special and exclusive this holiday season
Hoboken, NJ (PRWEB) October 13, 2009
The Cheese Ambassador® and Swirl Events have paired up to launch the "Win a Sommelier for a Holiday" sweepstakes. One lucky foodie will receive a personal and private consultation by Anu Karwa, accredited sommelier and founder of Swirl Events, to recommend wine selections based on their holiday menu and personal tastes. They will also receive $250 in recommended wines, The Cheese Ambassador's American Artisanal and Mediterranean Cheese Course Collections along with a cheese board and knife set. The prize package, valued at $500, can be utilized for the upcoming holidays or a casual get-together. "We want to excite our clients with something special and exclusive this holiday season", said Sara Kahn, President and Founder of The Cheese Ambassador®. "The winner will definitely have an unforgettable celebration!"
To enter, visit The Cheese Ambassador by November 13, 2009.
The partnership between The Cheese Ambassador® and Swirl Events is a natural fit since the mission of each company is to make gourmet cheese and fine wine (respectively) approachable and easy to enjoy. In addition to the cheese course guide included with every Cheese Course Collection purchased, customers will also receive a guide to seasonal sommelier selected wine pairings for each cheese in the collection. "I wanted to offer a variety of excellent and easy to find wines at various price points" Anu Karwa said. "The sommelier selections make wine and cheese pairings foolproof!"
About The Cheese Ambassador®
Even though her passion for gourmet cheese was undying, Sara Kahn found shopping for it to be overwhelming, time consuming and confusing. She established The Cheese Ambassador® to offer a simple way to select and serve the world's finest cheeses. By providing the perfect combination of exquisite cheese along with a comprehensive cheese course guide, enjoying gourmet cheese is now a deliciously enriching experience.
About Anu Karwa and Swirl Events
Anu burst onto the scene as the fresh, young face of wine with a mission to make wine a fun and easy part of everyday living. She has been called a no-nonsense walking 411 for a new generation of female wine drinkers and home entertainers since she launched Swirl Events, the in-home and corporate wine tasting events company with a fresh, hip spin. Anu created Swirl Events to combine her passion for wine and bringing her friends together for memorable evenings. Catch Anu on her recurring appearances on Martha Stewart Radio and Cosmo radio, where she serves as a resident wine expert, as well as online through her column on Culinate.com, articles in the Chicago Sun Times, and through her blog, SwirlSavvy. Anu is an accredited sommelier and holds an MBA from Columbia Business School.
###