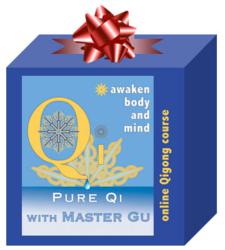 Petaluma, CA (PRWEB) December 17, 2011
Imagine staying well in winter, while co-workers are succumbing to colds and flus and the winter blues. The ancient practice of Qigong embodies movement, meditation and sounds to awaken body and mind to thrive. Master Mingtong Gu of The Chi Center is bringing Qigong to the internet with a new class series: Pure Qi with Master Gu, which is focused on staying well, joyful and energetic through the seasons of 2012.
Staying committed to a New Year's Resolution of fitness or wellness is often helped when a friend gets fit, too. Buy one course for $60 and get a second course for a friend for $30. Offer ends December 21st.
The first Pure Qi course of 2012 starts February 7th, the Pure Qi for Winter: Awaken Body and Mind will bring medicine-less wellness to a global audience via internet. When the long nights, cold days of winter bring us indoors more, our bodies and especially our kidneys tend to contract. It can show in depleted back health, energy and attitude. With Pure Qi balance restored, Winter becomes a time for an alert, clear and supple mind and body.
Each course includes four classes that are live-streamed on Tuesdays in February 7-28 at 6-7pm Pacific Time for Beginners, 7:30-8:30pm for Intermediate. Course Cost: $60. Every class is archived in our library to follow along for daily practice or if a class is missed. For Bay Area local audiences, there is the added choice to join us live in the Pure Qi classroom with Mingtong, as he teaches the global Pure Qi audience. For more information visit http://www.chicenter.com
###