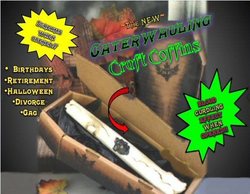 When first designed, The Craft Coffins were targeted specifically for the Halloween market
Madison, MS (PRWEB) September 2, 2009
Ded Mann Inc., makers of the famous Craft Coffins, introduces a new novelty product-the Caterwauling Craft Coffin. Caterwauling Craft Coffins are corrugated mailing boxes shaped (you guessed it) like coffins. When opened, they emit a blood curdling wail. Deliver "Dear John" letters, divorce papers, bachelor/bachelorette or birthday party invitations, Halloween invitations or greetings, or anything that demands a bit of impact in these hilarious, postal approved boxes. They are a scream!
"When first designed, The Craft Coffins were targeted specifically for the Halloween market," says Stevie Mann, President of Ded Mann, Inc. Since then, they've grown beyond a Halloween novelty. Consumers have used the product for birthdays celebrations, themed wedding invitations, retirement roasts, and for increasingly popular divorce parties. Craft Coffin customers are a creative crew. More than a few pet hamsters, fish, turtles and birds have found the Craft Coffin as their final resting place."
"Of course, they're still purchased for use as Halloween decorations, mailing containers for themed party invitations, school craft projects, and containers for trick-or-treat candy," says Mann.
Corporations like Six Flags have used Craft Coffins for promotional media events. This year, Ded Mann,Inc. is proud to affiliate the Craft Coffin with Battleship NORTH CAROLINA in Wilmington, NC. Battleship NORTH CAROLINA will be using the Craft Coffins for their Halloween extravaganza "Ghost Ship" scheduled for this October.
Ded Mann, Inc., an internet-based company, manufactures and ships the Craft Coffins worldwide. Since its inception in 1999, Ded Mann, Inc. has expanded its dot coms. In 2009, http://www.CraftCoffins.com and http://www.TheCoffinLady.com were added to the original website. Select from a full line of coffin greetings including the Original Craft Coffin in plain white or brown, the Finished Craft Coffin, or the new pre-decorated Caterwauling Craft Coffin through Ded Mann, Inc.'s websites.
Stevie Mann
Ded Mann Inc.
P.O. Box 875
Madison, MS 39130
tel: 601.573.7000
fax: 769.233.8184
http://www. CraftCoffins.com
http://www.TheCoffinLady.com
###