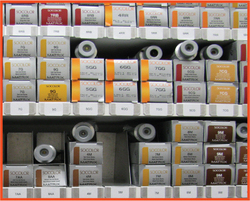 ... it has made so much sense in my salon.
Beacon, NY (PRWEB) April 6, 2010
Joshua Boos, owner of Moxie Salon & Beauty Hub, has invented The Colour Organizer, the most versatile hair-colour organizational system on the market today; organizing any colour-line. Used and new colour tubes or bottles, are kept together neatly, cleanly and in easy reach.
Deciding he needed to "tame the beast" in the backroom of his salon, Joshua, a stylist for more than 17 years, admits to having worked among mass chaos in every dispensary in all the 11 salons he has worked in--including two of his own. "Being a business owner, I know what it's like to see four of the same colour tubes opened--all while a colourist is opening up a new one. It's really an unbelievable sight, especially, when you catch yourself doing it as well."
After finding himself constantly doing the same thing that he reprimanded his staff for doing, Joshua knew he had to do something about this persistent problem. "It wasn't only mass confusion," Joshua explained, "but it was severely interfering with my bottom-line." Boos started to search for something to accommodate his needs, but found nothing -- so with a little ingenuity he created his own solution.
The Colour Organizer is designed in a universal size, which accommodates all colour tubes/bottles. It is designed to fit perfectly into cabinetry or you can simply mount it on a wall. Each holds three colour tubes or five colour bottles and with an optional height adjuster, each organizer can hold up to six colour tubes. It has a back (so the colour can't go deeper than allowed); an arm (so it keeps each colour tube/bottle in its proper home); and a tongue (so that it hooks the face of the shelving; keeping the unit in place).
Boos says, "Since The Colour Organizer addresses each individual colour-formula, you're able to utilize the most space within the cabinetry and the salons are able to dictate their own needs. If a colour-formula is discontinued or added, it doesn't upset the system. It's the best piece of salon equipment that has made so much sense in my salon."
For more info about The Colour Organizer, go to TheColourOrganizer.com or contact Joshua Boos at (845) 249-5094.
About Moxie Salon & Beauty Hub
Moxie stands outs as a premier salon in the Hudson Valley. Through continued education, the continuous pursuit of perfection and passion about his work, Josh and his team show true concern about their clients. For Moxie, it's not just about the hair. It's about changing people's perception of themselves; making someone feel good, as well as bringing real facts about the beauty products the clients are using and getting back down to hair and scalp basics.
###