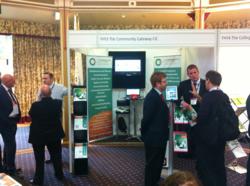 Our Franchise platform represents a genuinely great opportunity for up to 10 organisations to capitalise on a wealth of Telecare experience gained from the Department of Health and retail sector experience with the likes of Debenhams and John Lewis.
Eastbourne, England (PRWEB UK) 31 October 2012
The Community Gateway CIC which brought in partnership with Improvement and Efficiency West Midlands, a web portal called Gadget Gateway, to help people find out more about Telecare, is now launching a Franchise opportunity for the first 10 organisations to come forward.
The Franchise is ideally suited to local medium sized businesses (or voluntary) organisations, but could equally be adopted by Local Authorities and Independent social and health care providers, who are concerned with reducing income, budget pressures and increasing the promotion of Telecare. For example interested Franchisees could be User Led Organisations, Social Enterprises or Home Care Agencies and Housing Associations.
The Franchise platform provides the Franchisee with an established and reliable ecommerce platform, some centralised promotion and communications, some pre-agreed supplier agreements (with the opportunity to build upon), and existing policies and practises compliant with codes and consumer legislation, and physical merchandising and point of sale display material such as the iPad kiosk.
Any one or organisation wishing to explore this opportunity, including suppliers wishing to either sell to, or organisations wishing to retail through this model, should get in touch with Richard Haynes at The Community Gateway CIC to discuss specific requirements and the terms of this new offer.