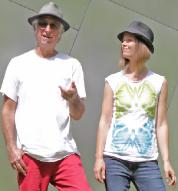 Some pretty clever (and sick) mofos. I enjoyed that immensely - Elliott Randall (Steely Dan)
Hudson Valley, NY (PRWEB) October 29, 2015
The Compact is at it again with their new video "Disease." Erin Hobson and Steven W. Ross wrote this anti-love song that is still somehow romantic. "Disease" is The Compact's first single after releasing three albums: Talk Radio (2009), Fortune Cookie Philosophy (2012), and One At A Time (2014). If you get a seventies, soft rock vibe from the talented duo, you're not wrong. Hobson and Ross both cite Fleetwood Mac, Bob Dylan and the Byrds as primary influences, and Erin also credits jazz guitarist Wes Montgomery.
Ross heard Hobson playing one night. Since that night The Compact has evolved into one of the most visible and highly regarded groups in their native Hudson Valley, a region that encompasses one of the most vibrant music scenes in the state of New York. While Steven W. Ross has always been integral to the Compact's writing, arranging, and performances, he now steps to the mic, bringing a smart, thorny personality to their songs and serving throughout as gritty foil and friction for Hobson, often bristling against her smooth tunefulness.
The video concept for "Disease" follows the song's storyline. It begins as a seemingly innocent love song, but suddenly reaches a climax where a conversation and its true meaning is revealed. The lyrics are honest and relatable—Ross and Hobson have clearly decided to have fun and make the serious topics of love and STDs a little easier to discuss.
The duo has been joined by a wide variety of talent on their albums, including: drummer Gary Burke (Joe Jackson, Bob Dylan, Shania Twain), and keyboardists Pete Levin (Gil Evans, Miles Davis, Annie Lennox) and Ross Rice (Peter Frampton, Adrian Belew, Susannah Hoffs). Ross and Hobson not only write all of their own songs, but they also make their own videos. The video for "Disease" was shot, edited, and produced by the musical duo.
For more information, images, or to arrange for an interview, please contact Melissa Infurna at Powderfinger Promotions: melissa(at)powderfingerpromo(dot)com or visit: http://www.the-compact.com/
Powderfinger Promotions–Independent Radio Promotion and Publicity. Since being founded in October 1994, Powderfinger has come to be regarded as a top indie radio promotion and publicity firm with ties across North America.