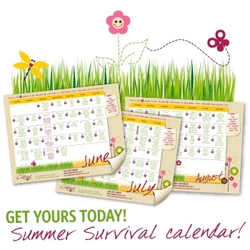 I have scoured the web for all kinds of new and creative ideas for you to be prepared for those long summer days
Seattle, Wa. (Vocus) June 25, 2010
Just as schools are letting out across the country The Confident Mom is throwing moms a lifeline with a creative, colorful, and dynamic Summer Survival Calendar that features budget friendly daily activities aimed at keeping kids busy, happy, and healthy this summer.
"I have scoured the web for all kinds of new and creative ideas for you to be prepared for those long summer days," said Susan Heid, The Confident Mom, "I know you will love this 3-month calendar for the ease it will give you in creating a plan for your day."
The colorful calendar is easy to use. Each day features at least one suggested activity, as well as clickable links to kid-friendly recipes, crafts, or special discounted activities. The Summer Survival Calendar is available online for $7.00 USD and includes a list of tips for making the most of the timely tool.
For every mom, kid, or caregiver that is burned out, overheated, or just plain bored this summer, The Confident Mom Summer Survival Calendar offers 100 ways to beat the heat and blast the boredom. From tie dyed socks to fruit kabobs, and dollar movies to road trip car games, The Confident Mom has gathered a summer full of fun for everyone in the family.
For more information or to obtain a complimentary review copy of The Confident Mom Summer Survival Calendar visit The Confident Mom or contact Susan Heid, The Confident Mom at the number listed below.
About The Confident Mom
Susan Heid is The Confident Mom, a PCI Certified Parent Coach®, a Certified Family Manager Coach®, and a sought-after speaker, instructor, and talk show guest. Passionate about empowering moms in the art of family management and strengthening families nationwide, she offers a full menu of family coaching solutions including Optimum Mom Coaching, the Family Manager Makeover, and ScreamFree Parenting workshops. A wife and mother of 3, Susan lives in Seattle, Washington.
Contact info:
(p) 425-357-9690
(f) http://www.facebook.com/TheConfidentMom
(t) http://twitter.com/ConfidentMom
###