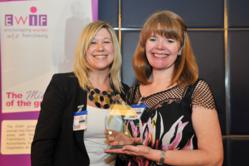 Sarah Cressall's motivation makes her a very worthwhile advocate for women in franchising
(PRWEB UK) 19 April 2012
Although many parents / carers value the educational benefits of children doing creative activities the thought of doing arts and crafts at home can cause more than just a shudder at the thought. However, mum of three, Sarah Cressall, recognised a gap in the market for children's educational art and craft classes. Cressall established 'The Creation Station' in 2002 and transformed her vision to inspire children's imaginations into a successful reality. With over 55 Creation Station franchise owners across the UK, Cressall has been awarded the prestigious title of Best Female Franchisor in the UK.
"I am really delighted to achieve such a prestigious national award. I set up my business to support other families and carers who wanted their child to benefit from shared positive, educational art and crafts experiences. Plus I also wanted my business to work around my own family needs" reminisces Cressall "Other mums were asking me if they could run their own Creation Station. With that in mind, I spent five years 5 developing the business systems, and worked with the British Franchise Association so that it could be franchised, with everything in place to support working mums with a flexible franchise".
Demand for the art and crafts experiences continues to increase with over 48,000 children and families having already experienced The Creation Station art and crafts classes and attended art birthday parties. The Creation Station brand is based on nurturing each child's own imagination and celebrates each individual journey of exploration and development.
The Best Female Franchisor of The Year award was sponsored by Coconut Creatives, 'We were delighted to award Sarah Cressall the Woman Franchisor of the Year 2011 award based on her ability to demonstrate growth and development of The Creation Station. Her motivation makes her a very worthwhile advocate for women in franchising and we are sure that her contributions to the industry will continue to encourage others in the future' Sarah Cook, Founder and Franchise Marketing Specialist, Coconut Creatives. Encouraging Women Into Franchising is an organisation who's members come from all areas within the franchising industry and include: Franchisors, Franchisees, Banks, Consultants, Accountants, Solicitors, Media Providers, Exhibition Organisers, as well as other associated businesses.
For more information on children's art and crafts activities, or franchise opportunities
Visit http://www.thecreationstation.co.uk or email Nicki Lee on nicki(at)thecreationstation.co.uk or call 0844 854 9100.
Notes for editor
For Hi Res images please contact nicki(at)thecreationstation.co.uk
Sarah Cressall started the Creation Station around her kitchen table back in 2002 to provide her own three young boys with educational hands on creative activities and to satisfy her own needs to achieve a rewarding and flexible carer where she could easily manage her family commitments
Sarah Cressall is listed in the top 100 Mumpreneurs, won the 'Best Franchisee Marketing Support' award 2012, 'Best Interactive Business Award' 2011, the Crème de la Crème business award 2012, Finalist in The Extraordinary Woman of the Year 2011 award and Business woman of the year 2009 in the Leicestershire awards.
The Creation Station inspires children's imaginations and supports families and carers with engaging art and crafts classes and parties for children aged 3 months to 11 years. A network of over 55 female franchise owners operate across the UK.
Follow @sarahcressall
Like http://www.facebook.com/thecreationstationltd