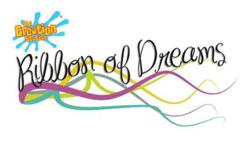 We are delighted to be supporting parents, carers and organisations to inspire children's imaginations, through childrens art and crafts workshops across the country
(PRWEB UK) 10 May 2012
The benefits for children being given the time and space to play creatively are well documented. This is supported by a recent survey of 2000 parents by Ribena. The survey found that play is vital for physical, emotional and social development in children. It was identified that play which is child-led, free, for its own sake and exploratory is the most beneficial for children and that almost half of parents (46%) want help and ideas on how to play with their children.
With the closure of over 250 children centre's around the UK, parents and carer's are receiving even less help with children's play activities. The Creation Station, the UK's leading children's arts and crafts activity provider, has set up the 'Ribbon of Dreams' campaign to nurture childrens imaginations through a series of local and national events running across the UK during the months of May, June & July 2012. All profits from the events will be donated to The Children's Trust who provide care, education, therapy and rehabilitation to children with multiple disabilities, complex health needs and acquired brain injury.
"We are delighted to be supporting parents, carers and organisations to inspire children's imaginations, through childrens art and crafts workshops across the country" states Sarah Cressall founder and managing Director of The Creation Station"We are providing events across the UK for families, nurseries, toddler groups, pre-schools, brownies, cubs, shopping centres, county shows and at events celebrating Jubilee and the games to mention a few"
The Creation Station 'Ribbon of Dreams' is based on inspiring children to think of want they would love to be, do, create or invent. Children are encouraged to talk about their dream with their parent / carer / Creation Station leader and then draw and collage the image onto an activity sheet. The images are taken home and can be scanned in and uploaded to become part of the national 'Ribbon of Dreams' gallery on http://www.thecreationstationstore.co.uk
The Creation Station is an ambassador of child led, exploratory creative play. With over 55 centres across the UK, parents / carers and organisations are supported with weekly Baby Discovery classes, Little Explorer classes and Family Fun classes. Other creative experiences include Birthday Party Entertainment and Event Entertainment
You get involved in a variety of ways. Attend one of the many events running across the UK visit http://www.thecreationstation.co.uk to find nearest centre. Or visit the gallery on the online store http://www.thecreationstatiostore.co.uk to download your Ribbon of Dreams activity sheet, then draw your dream and upload it.
If you are involved in working with children aged 3 months to 11 years, or work within a family focused activity or events organisation and would like to find out more contact Ian Ballinger on 0844 854 9100 or email ian(at)thecreationstation(dot)co(dot)uk to discuss how The Creation Station can support the work you are doing.
-end-
The Ribena Plus Play report surveyed 2,004 parents of children between the ages of 3 and 15, conducted in February 2012. For more information visit http://www.ribena.co.uk
The award winning Creation Station Ltd. is committed to inspiring children's imaginations through its award winning art and craft experiences which provide a fun, educational and stress free experience for children and parents to enjoy together.
Established in 2002 by Sarah Cressall, the Creation Station has over 55 female franchise owners delivering classes, parties and events across the UK.
Recent awards include the following:
The Best Woman Franchisor UK 2011 - EWIF Awards
Winner Best Franchisee Marketing Support 2012
Winner 'Crème de la Crème' Business Award 2011
Winner 'Best Interactive Business' Award - Mumpreneur 2011
Finalist 'Extraordinary Woman of the Year 201
For more information about Sarah Cressall and The Creation Station Ltd please visit http://www.thecreationstation.co.uk
Or call Nicki Lee on T: 0844 854 9100
Or email nicki(at)thecreationstation(dot)co(dot)uk