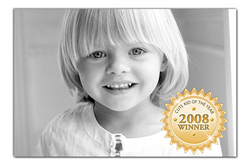 Face of Carter's® Footwear
New York, NY (PRWEB) January 23, 2009
TheCuteKid.com™ today announced that The CuteKid of the Year for 2008 is Kaley Dye, age 3, from Stuart, Florida. With over two million photos uploaded this year, Kaley was among 60 finalists in the contest. She was originally named the January 2008 Preschooler and Overall Winner which then made her eligible to be in the running for The CuteKid of the Year award.
As the grand prize winner, Kaley will receive a $25,000 college tuition scholarship, will be the "Face of Carter's® Footwear" for 2009, will be flown to New York for a photo shoot with a professional photographer, will receive a 2008 CuteKid of the Year website and a canvas portrait of the winning photo.
Kaley's parents, Alison and James Dye, entered her photo at the suggestion of a family member. Mrs. Dye said, "Kaley is a very bright, loving, energetic and all around CuteKid. We are happy for her to have had this wonderful experience with The CuteKid™, we are beyond grateful."
"We are so excited to give the award to such a CuteKid," said Greg Byrnes, VP. "We are looking forward to meeting her at the photo shoot in New York City next month."
In addition to the photos being judged by talent and casting agents, The CuteKid™ offered all the finalists the opportunity to win "The People's Choice" vote. The finalists with the highest number of votes and the winner of the gallery received an extra "judges vote" when the final scores from the judges were tallied.
To learn more about Kaley, visit http://www.CuteKidoftheYear.com. To learn more about The CuteKid™ contest, visit http://www.TheCuteKid.com.
TheCuteKid.com is the Internet's most respected and largest growing child and baby photo contest and parent network with over 1.5 million members. The contest is judged by Entertainment Industry Professionals, top Talent Scouts and Casting Agents. TheCuteKid.com is the Internet's leading source for Entertainment Professionals to scout for new child talent. Do you have a CuteKid™?
###