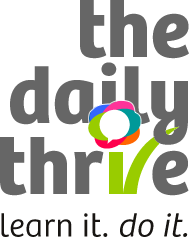 Participants engaged in connecting disruptive innovation in their personal lives too, Whitney was the perfect speaker to launch our Ten Buck Talk series. We look forward to upcoming talks with more inspiring women!
Santa Barbara, CA (PRWEB) February 29, 2012
On Wednesday, February 22, 2012 the Daily Thrive, an online membership learning venue that provides coaching and other beneficial resources for high-achieving women, hosted a "Ten Buck Talk" with Whitney Johnson, a venture capitalist and co-founder of Rose Park Advisors. During her talk, Johnson, a former Wall Street investor analyst, shared her approach to funding new, successful small businesses via the concept/art of disruptive innovation, which she has also written about in her book coming out this May, Dare, Dream, Do: Amazing Things Can Happen When You Dare to Dream. Coined by Rose Park Advisor's CEO Clayton Christensen, disruptive innovation is an effective and sustainable way for individuals to start small businesses at a lower risk (albeit with a likely smaller reward, at least in the early stages) than is often the case, particularly for those entering a market that is already flush with larger, high-end competitors. It also allows an entirely new demographic of customers access to products and services that previously only wealthy or highly skilled customers could acquire.
By all accounts, this "Ten Buck Talk" was a resounding success. "Whitney has an incredibly facile mind and did a great job of demystifying the startup process for listeners," said Daily Thrive founder Lisa Gates. "Participants engaged in connecting disruptive innovation in their personal lives too, so she was the perfect speaker to launch our Ten Buck Talk series. We look forward to upcoming talks with more inspiring women!"
The "Ten Buck Talk" is a core feature of the services the Daily Thrive offers to women who join the "Tribe": Approximately once every other month—and sometimes more frequently—the Daily Thrive hosts a call with a woman thought leader who provides insight and how-to on topics of interest that pertain to Daily Thrive subscribers, such as entrepreneurship, leadership, activism, and work-life balance, among others. To participate in the audience via the web, members pay a $10 fee, which gets divvied up among the Daily Thrive, the speaker, and a beneficiary (usually a not-for-profit organization) named by the speaker that promotes the social and/or professional well-being of women around the world. For example, Whitney Johnson, who makes a living inspiring and funding innovative companies and individuals to actively pursue their professional business-minded dreams, selected the Microlending Film Project—a woman who is making a documentary about how microloans (ultra low-interest rate loans) are benefiting traditionally disadvantaged women around the world who are "daring to dream."
If you haven't done so already, now is a really good time to get on the "Ten Buck Talk" bandwagon, because the Daily Thrive has two amazing speakers lined up for the next couple of months. First, on Thursday, April 19, at 7pm EST (4pm PST), nationally renowned activist, author, speaker, and leadership expert Gloria Feldt leads a discussion titled "Sister Courage: How Movement Building Principles Can Grow Your Business, Break Glass Ceilings, and Change the World," addressing the importance of how and why women need to attain more leadership roles in business and activism. Feldt also has a new book that touts these and other similar principles, No Excuses: Nine Ways Women Can Change How We Think About Power. Gloria has chosen the Women's Media Center, which works to monitor and correct an anti-female bias in the news media, as her beneficiary. Then, coming up on Tuesday, May 22, at 7pm EST (4pm PST), lynda.com founder Lynda Weinman discusses "Lessons Learned Launching Lynda.com," a talk about how she grew her online resource for students into a highly successful Internet training library resource and the value of being a role model for women to accomplish their dreams. Her beneficiary is yet to be announced; both talks are 75 minutes long. For more information, visit TheDailyThrive.org.
About The Daily Thrive: The Daily Thrive is the professional woman's go-to source for getting advanced learning on subjects that will raise their game in life and work. Founder Lisa Gates and her Daily Thrive Tribe have curated daily email blasts with real time coaching and feedback, as well as "Jam Sessions" or short self-study courses, plus a series of interactive, open-to-the-public teleconferences called "Ten Buck Talks" with women thought leaders, entrepreneurs and activists. The team of Daily Thrive experts are Sara Caputo, MA of Radiant Organizing, and author of The Productivity Puzzle: What's Your Missing Piece; Mikelann Valterra, MA of Seattle Money Coach, and author of Why Women Earn Less: How to Make What You're Really Worth; Chrysula Winegar, MSc of Work.Life.Balance and When You Wake Up a Mother; Maria Schonder, MS of Harmony Nutrition, and Candy Zulkosky of My Tech Diva. The Daily Thrive is a special project of She Negotiates Consulting and Training.
###