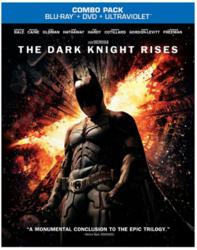 Detroit, MI (PRWEB) October 06, 2012
The Dark Knight Rises, one of the top box-office draws of 2012, is available for order at SportsFanPlayground.com. The movie will be released in a DVD/Blu-ray/ultraviolet combination on December 4.
The movie stars Christian Bale, Morgan Freeman and Anne Hathaway and picks up where Batman (Bale) has taken the blame for Harvey Dent's death, which took place in the previous movie, The Dark Knight. Batman prepares to deal with a villain who may be too strong and cunning for Batman to conquer. The DVD/blu-ray set preorder price is $24.99.
The entire Batman Trilogy, which includes Batman Begins and The Dark Knight, is also available for preorder at SportsFanPlayground.com. The 5-disc blu-ray set will also be released on December 4 and will be available for $37.09, 30% off of the retail price.
The store also has the individual movies available at low prices, with the Dark Knight blu-ray priced at $8.30 and Batman Begins is priced at $7.95, while supplies last.
For more information, please visit SportsFanPlayground.com.
About Sports Fan Playground
SportsFanPlayground.com is a leading online e-commerce provider of electronics which range from tablets, PCs and cameras to video games, DVDs, Blu-Ray Discs, appliances, lawn and garden products and more.
The store also carries the top brands in electronics and apparel including, Nike, Adidas, Apple, Sony, Samsung, Microsoft, EA Sports, and many more. The company recently began its initial expansion into clothing and jewelry and will continue to expand over the next several months.
The store recently launched an online grocery store service to further the growth of its brand. The service will allow for food items to be delivered in bulk, such as meats, breads, breakfast items, and more.