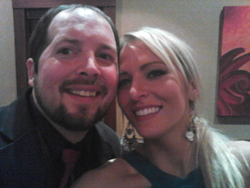 Oshkosh, WI (PRWEB) January 07, 2016
When author Bodell Ostertag first met former Army Ranger Matthew Bierman, who once assisted in the rescue mission of Jessica Lynch during the Iraqi War, she knew she had met someone truly special. Upon hearing his story and his miraculous awakening from a two month coma, she told Matt and his mom, "Wow. This is a story that has to be told." Five years and one incredible book later, Matt's story has finally been told.
The Day I Walked With God is an inspirational short story accompanied by breathtaking illustrations which tells of Matt's struggle with PTSD, his pain at the death of loved ones, as well as his confusion at God's indifference to Matt's problems. All of these events accumulated into a tragic accident which almost cost Matt his life. Upon awakening two months later from his coma though, and throughout his long recovery, he never stopped talking about the time during his coma when he walked along a clear blue river next to God and God gave Matthew the answers he was so intensely seeking. This book is inspired by, and is a compilation of, the conversations Matthew Bierman had that day; the day he walked and spoke with God.
The Day I Walked With God will be available free for download on Saturday, January 9th, on Amazon.com as part of a one day promotional offer. Copies can otherwise be purchased through the publisher's website: https://www.createspace.com/5930733 or through Amazon.com.
Author Bodell Ostertag uses her talents as a communicator to bring awareness to a variety of issues by creating emotionally compelling work. She is the creator of http://www.bodell.org, a multi resource website committed to empowering people and destigmatizing mental illnesses/anxiety disorders, as well as producer and host of the upcoming podcast series In Bed with Bodell, where she gives an authentic voice of experience to a variety of topics including agoraphobia, PTSD, narcissistic relationships, toilet anxiety, overcoming the debt expectation, and more.
Bodell Ostertag and Matthew Bierman are available for interviews and appearances. For booking presentations, media appearances, interviews, and/or book-signings, please contact Bodell Ostertag at (920)216-4462.
###