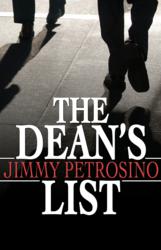 "The gangster story for this generation."
New York, NY (PRWEB) September 21, 2011
Imagine a college campus overrun by fraternity brothers doing a mob's bidding, with even their leader constantly looking over his shoulder and fearful for what may come next. This is protagonist Dean Perrasani's story in a new crime fiction novel, The Dean's List (Diversion Books; e-book; $2.99) by Jimmy Petrosino.
In his debut novel The Dean's List, Jimmy Petrosino tells an exciting and fast-paced tale of a college student who becomes president of fraternity Phi Beta Regnum. Once he takes over the post, he begins to run the group, a cover for an undercover crime syndicate created by one of the most ruthless mobsters in the world, Alfred Calarone. Seeing how much revenue could be generated on a university campus, Calarone took his successful mafia blueprint and implemented it into the fraternity at Filmore University, using teenagers with troubled pasts to do his dirty work.
Dean Perrasani is captivated by his new role, hoping to build on the legacy of his older brother, Tyler, a former president of Regnum killed years before in a "car accident." When Dean wants to run the organization as a legitimate enterprise, his bosses deem him too powerful and he begins to experience the violence and fear that comes with the job. The clock is ticking for Dean. In this "Godfather" meets "The Social Network" story, will he able to succeed in his ultimate goal—revenge for his brother's murder?
About the Author
Jimmy Petrosino discovered his love for writing in his teens, therapeutically jotting his feelings down on paper. What started as a diary of poems and writing slogans in a brief stint with a greeting card company turned into screenplays, one of which is currently in development with Hollywood producers. The youngest of five brothers in an Italian American family, Jimmy grew up listening to exciting stories at the dinner table about family members who worked as detectives, and their battles with some of the city's most notorious criminals. He was inspired to write The Dean's List by his father, who comes from a long line of dedicated New York City Police Detectives. His great uncle was Lieutenant Joseph Petrosino and has a park in Little Italy named after him. Jimmy currently works for his family's business, Mountain Spring Waters of America, in New Jersey.
About Diversion Books
Diversion Books is an eBook publishing company headquartered in New York City and focused on developing books with quality authors. Diversion combines the best of old and new publishing. We offer the quality and care of traditional editorial and production services along with the efficiency, author empowerment and new revenue models made possible by the latest advances in electronic publishing. Diversion distributes through all the major e-book retailers, including Amazon Kindle, Apple iBookstore, Barnes & Noble NOOK, Kobo, Copia, Google Books, and Sony Reader.
For more information on Diversion Books (http://www.DiversionBooks.com), call 212.961.6392 ext. 8, or email mary(at)diversionbooks(dot)com.
http://www.diversionbooks.com/ebooks/deans-list
https://www.facebook.com/TheDeansListPart1
https://twitter.com/#!/jimmypetrosino
###