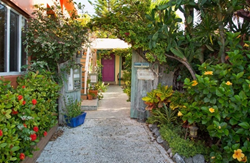 The fact that we meet and surpass such a stringent criteria means our guests are assured the ultimate in cleanliness and a great vacation experience
Hollywood, FL (PRWEB) June 30, 2015
The Desoto Oceanview Inn, located in Hollywood's nostalgic North Beach, is once again the recipient of the prestigious Donal A. Darmody "White Glove" Award for the 2015-2016 season. The award, established as recognition for only the finest inns of Florida, is presented by the Superior Small Lodging Association.
Qualifying for the award is the result of a rigorous inspection by independent Property Review inspectors. Strict cleanliness criteria including the quality of bed and bath linens, overall quality in appearance, added amenities and excellence in service is part of the annual review process.
The inspections are a welcome part of operating an inn according to Steve Welsch, Desoto's general manager. "It keeps us on our toes, and insures that we go beyond the standards most hotels meet. The fact that we meet and surpass such a stringent criteria means our guests are assured the ultimate in cleanliness and a great vacation experience. It means that a guest has chosen a property of distinction and care. The award validates our commitment and high standards, we're thankful that Superior Small Lodging recognizes our effort".
The inn's commitment to clean and green is further enhanced by the sustainable products used to achieve this level of quality. From housekeeping and gardening, to maintenance and waste management. The Desoto, a "Green Hotel Member" strives to meet the highest level of "green" practices available today.
Superior quality accommodations in a lush tropical environment are offered at extremely affordable rates. Free parking, wireless high speed internet, bicycles, beach chairs, umbrellas, beach towels and optional "healthy living breakfast" package add up to a great summer getaway value.
About the Desoto Oceanview Inn
The Desoto Oceanview Inn is a smoke-free, award winning inn, located just footsteps from the beach, in the laid back neighborhood of North Beach, Hollywood.
Built circa 1950's, the inn has been lovingly restored and renovated to reflect the ambiance and character of the "old-Florida" mom and pop inns, and still meet the discerning traveler's needs.
The Desoto is a "Superior Small Lodging White Glove Award" recipient, assuring even the most discerning guest an exceptionally clean property, and attention to detail.
You can choose from cozy efficiencies, spacious studios, full one-bedroom apartments and convenient family suites, all with kitchenettes or full kitchens. nestled into lush native gardens alive with butterflies and birds.
Our gardens, like the rest of the inn are environmentally friendly. All cleaning and maintenance supplies, along with our bath and bed linens are people and earth family.
The Desoto Oceanview Inn… a slice of paradise!
About The Superior Small Lodging Association
The Superior Small Lodging Association (SSLA) is a non-profit association of independently owned and managed boutique Inn's, B&B's and hotels throughout the State of Florida that have fewer than 50 rooms and meet a superior standard of excellence.
Established in 1989 to bring brand awareness to the smaller boutique lodgings as an alternative to the large corporate branded hotel chains, the Superior Small Lodging brand has come to represent a partnership of unique lodging properties offering a high level of service, comfort and cleanliness at competitive rates. Each year our members' properties are inspected by an independent inspection company and those that meet specific cleanliness standards are recognized with our White Glove Award for cleanliness. Excellence in quality and service are also recognized. With approximately 170 member properties representing almost 3,000 hotel rooms, time shares and vacation rentals throughout the State of Florida the success of the Superior Small Lodging program is undisputed and gives prospective guests the comfort of knowing that when they book a Superior Small Lodging property they can be assured of a high standard of excellence.