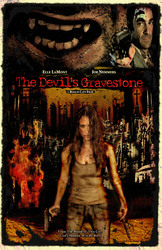 The best vampire flick I have ever seen for such a modest budget
Dallas, TX (PRWEB) March 17, 2010
The recent release of the The Devil's Gravestone trailer has spurred much anticipation among fans of the horror genre. Director, Jay Mackenzie Roach, said "We've been getting a lot of response lately to the trailer as well as some of the artwork. It's been a long road; we really can't wait to get this movie out to the world." The posters, teaser, and trailer can be viewed at the film's website.
Wonderphil Productions will be overseeing the sale of The Devil's Gravestone to various worldwide territories. Phil Gorn, President, is clearly excited about the addition to their catalogue, stating, "This is what indie filmmaking is all about - good story, good cast, talented filmmaker. We're taking Gravestone to Cannes in April to let the world witness its birth." Co-President and Head of Acquisitions, Sanders Robinson called the film, "A Diamond in the Ruff. The best vampire flick I have ever seen for such a modest budget."
The Devil's Gravestone brings together a mix of up-and-coming talents and long-time professionals. Veterans Joe Nemmers (Temple Grandin, Bad Lieutenant: Port of Call New Orleans) and Grant James (Tombstone, UHF) come together with promising new-comer's Elle LaMont and Niko Red Star. Early buzz indicates that Elle LaMont, an accomplished model with Wilhelmina Management, will be someone to watch for in the future.
Providing 5 songs to the soundtrack, A Cosmic Slut Production lends ample atmosphere to the film. Starvox.net declared, "a beautifully dark band", "an almost cult following of Goths and underground scenters", "a darker sort of Portishead". A teaser for the film featuring a song from Cosmic Slut can be viewed here.
The Devil's Gravestone will joining the 2010 film festival circuit in the coming months. Also, Wonderphil will be representing The Devil's Gravestone at the upcoming Miptv, Mipcom, Cannes Film Festival/Market, DISCOP, Eurasia, as well as the American Film Market.
Sites and publications dedicated to movie news or reviews may request a screener copy of the film, via the listed contact information on this page.
For more information on Wonderphil Productions, visit http://www.wonderphil.biz/
For more information on The Devil's Gravestone, visit http://thedevilsgravestonemovie.com/
# # #