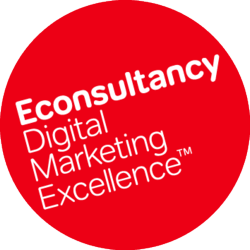 "The digital sector is undoubtedly booming; it already contributes over £30bn annually in the UK alone."
London, UK (PRWEB UK) 19 June 2013
What do ASOS, Samsung, Transport for London, the Financial Times, Barclays, Argos, and Visit Scotland have in common? They are among the world's most digitally savvy businesses, pushing digital forward into daily commerce and customer engagement. They have also each earned their place on the shortlist for recognition at the definitive digital awards event of the year – The Digitals 2013 (http://www.thedigitalsawards.com).
Presented by industry leaders Econsultancy (http://www.econsultancy.com) and new media age (NMA), The Digitals will take place in London on 27 June 2013. They will see the world's digital influencers gather to celebrate the brands and agencies that are at the forefront of digital strategy, creativity and technical innovation.
This year's finalists include a host of campaigns that have made an impact with their audiences and added colour and entertainment to our everyday lives. They feature everything from the Coca-Cola Beat Generator campaign to the IKEA catalog app, from the Huffington Post's Conversations Start Here campaign, to Nestlé's Kit Kat Chunky Champion 2013.
Narrowed down from nearly 1,000 entries, 156 entries were shortlisted across 20 categories. Although competition was tough, the best in the market demonstrated intelligent strategy and creativity across the key digital disciplines; they represent technological innovations and rising stars in the field. These include Samsung, in the social media category, for its iconic We are David Bailey campaign; ASOS for its interactive Twitter campaign, and Diageo's Father's Day Campaign – among many, many more.
"The digital sector is undoubtedly booming; it already contributes over £30bn annually in the UK alone," says Ashley Friedlein, CEO, Econsultancy. "These awards showcase the very best of the best contributions to the sector – the companies that are pushing boundaries and setting the bar for the industry. Just as importantly, The Digitals are a place to network and share ideas like no other."
The Digitals' judging panel underlines the prestige of these awards. It comprises digital leaders from market driving companies including Barclays, Selfridges, Citibank China, Orange, Dell, Wonga, and Moneysupermarket.com, among others. The event also draws some of the biggest names in global ecommerce, multichannel marketing and social media to this essential networking event.
About Econsultancy
Econsultancy is a globally renowned information and capability development service for digital professionals. We help our clients seize the opportunities and meet the challenges of a digital world and connected consumers.
Every day, the world's most successful brands, supplies and agencies turn to Econsultancy resources – from our premium subscriptions, research reports, webinars, events and online content to our capability assessments, training, elearning and skills development programs – to transform their culture, build better teams, boost performance and deliver results.
Web: http://econsultancy.com
Twitter: http://twitter.com/econsultancy