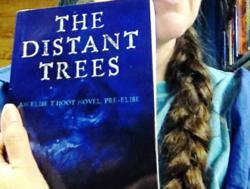 Oh, yeah, they meet a peculiar kind of alien and toss apples around. Sure, there's fun stuff and drama in there to balance out the technical stuff.
Horse Branch, KY (PRWEB) May 23, 2012
The Green Book Festival, JM Northern Media LLC, announced the winners of the 2012 competition on May 7, 2012: The Science Fiction Winner is: Mary Ellen Wall with her breakthrough novel, The Distant Trees.
"This is so exciting! I put so much into The Distant Trees and this validates the toil and trouble," says Indie author Mary Ellen Wall. "I raced to my blog at maryellenwall.wordpress.com to spread the great news."
The Distant Trees examines controversial environmental issues, and according to Ms. Wall the world changes for the worse in the next 100 years. Storms are worse and rising seas put coastal cities at great risk. The Netherlands was ready, in part because of the heroic efforts of the great seawall engineers like Loek t'Hoot. Yet some mysterious treachery disabled key storm gates in a hurricane and devastated Loek's famly along with millions of other households. Thus his precocious daughter Elise t'Hoot becomes the haunted illegal refugee Marta, the prime character in The Distant Trees.
"I studied the environmental issues diligently and read the Intergovernmental Panel on Climate Control reports as well as books on habitat shifts and hacking the damaged atmosphere. The science covers an immense body of knowledge, but I don't preach it." In the book, Atmospheric Scientist Naomi Bloom, closet rebel activist, commiserates with the Power Engineer Cedric Crannog on the error bars on her measurements. The famed Canadian Agronomist Alain Cartier tells Marta about fighting the Russians for rights to the open Arctic Sea. Dr. Ronnie Sue Trogden, the weary former head of the South Carolina Displacement Camp, tells the privileged Executive Office Char Jones about an exploding hydrogen plant that deafened her for months.
Wall explains, "The Distant Trees is fast paced, entertaining science fiction. That doesn't mean I couldn't make the science correct and look into the future; that's what speculative fiction is all about. And they talk about much more than climate too. Crannog finds math errors in the program that runs the crucial Sand Breaker, the thing that busts the oxygen out of the regolith, the behemoth he will direct when he gets to the next planet called Tenembras. Marta studies the stressed trees originally planted by marooned pioneers while helping Alain assess the lifeless sand and rocks beyond the tree line." She laughs, adding, "Oh, yeah, they meet a peculiar kind of alien and toss apples around. Sure, there's fun stuff and drama in there to balance out the technical stuff."
Green Book Festival science fiction winner Mary Ellen Wall has the right balance of accurate and timely science with a ripping good science fiction story –The Distant Trees.