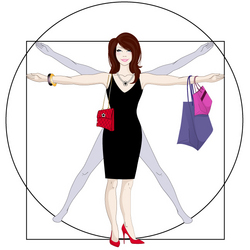 Rachael Ray describes "The Fashion Code" as "The Da Vinci Code meets fashion."
San Diego, CA (PRWEB) February 16, 2010
TheFashionCode.com releases a brand new style concept, which takes an age-old equation for beauty and applies it to clothing. Women of all sizes and shapes can now easily learn the secret to looking slim and stylish - without a model's physique.
Women everywhere have asked themselves the question, "does this make me look fat?" Of course anyone who has ever looked in a fitting room mirror knows this is a valid question, as some clothes really do make you look larger than life.  Since most clothing is designed for the ever-shrinking model, the frustration of finding a flattering outfit is a real challenge for any woman who isn't a Heidi Klum look-a-like.  
Most women will be pleasantly surprised to know there is a timeless formula for looking slim and stylish that has been used by everyone from today's top fashion icons to Mother Nature herself.  This fascinating recipe for beauty has been around since the dawn of time and is found in everything from a Valentino dress to the works of Leonardo Da Vinci.
Beauty is not a coincidence; there is a logic behind what we find most pleasing to the eye.  So what is this amazing formula?  It is known by many names, including the Divine Proportion and the Golden Ratio.  It was first discovered by the ancient Greeks who believed it to be the secret key to beauty.  Today, this secret key continues to be the main component in all that we find beautiful in the world around us - from the graceful lines of the Eiffel Tower to the shape of a gorgeous handbag. The fascinating power of the Golden Ratio has been featured in Vogue, Elle, The Da Vinci Code and Oprah, to name a few.
Most recently, international fashion stylists and identical twin sisters Sara and Ruth Levy have taken this secret beauty formula and applied it to clothing, creating The Fashion Code. The revolutionary Fashion Code allows any woman to instantly look pounds thinner, years younger and infinitely more stylish, without breaking the bank.
Recently featured on The Rachael Ray Show, the Levy sisters' "Fashion Code" easily marries science with beauty, helping women effortlessly determine the most flattering clothing and accessories for their own unique body.  Rachael Ray describes The Fashion Code as "The Da Vinci Code meets fashion."
There is actually a very simple science to style, says Sara Levy, who's based in Rancho Santa Fe, California. "Sure, there have always been tips and tricks for looking good, but there has never been an actual foolproof formula for dressing beautifully.... until now." 
Sara adds, "The Fashion Code works on every woman, whether they're a size 2 or 22. Rather than aspiring to impossible standards by squeezing into clothing that was never meant for them, The Fashion Code empowers women by teaching them to dress beautifully for the unique figure they were born with", she says. "The Code also helps women save money by avoiding expensive shopping mistakes as well as showing them how to transform existing clothing they have in the back of their closets."
 "As fashion stylists, we were in a unique position to apply this amazing formula to women across the globe. At first we thought it might work on it just a certain percentage of people, but over the years we have yet to find a single person it doesn't work on," says Ruth Levy, Sara's identical twin sister, who has worked as a designer in Paris and Zurich for the past 15 years.
On the Levy sisters' website, TheFashionCode.com, women can see stunning before and after photos of the exact same outfit, which illustrates how this fascinating Code can completely transform your shape without a single trip to the gym.  By submitting only three simple measurements, any woman can discover the most flattering clothing proportions for her unique figure - which will be instantly calculated and downloaded to her computer.
The Levy sisters are the founders and owners of TheFashionCode.com, an on-line business dedicated to revealing this exciting break-through discovery which will change the way we view fashion and our bodies forever.
More information is available at TheFashionCode.com
Be sure to request their on-line Fashion Code Media Kit (media only please).
###