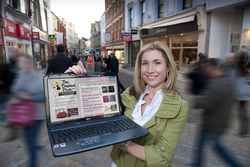 Shopping for bargains is much easier when you know where the best deals are, a quick look at the site saves you time and money...
(PRWeb UK) December 28, 2009
A new website that launched this month is helping bargain hungry shoppers plan their sales shopping this year, allowing them to browse for the best fashion bargains before they head out to the High Street.
This year has seen a bumper crop of Boxing Day and New Year sales as retailers battle for business, and the site tells fashion shoppers where to head first to grab the best deals.
The concept, unique to the UK, brings together the best deals from over 300 UK retailers and brands together at one website –TheFashionPixie.com. Within a week of its launch thousands of people had visited the site that is growing rapidly through Facebook and Twitter groups.
The Fashion Pixie gathers information about discounts and sales from virtually every national retailer, fashion website and high street shop, and posts the best deals on one website that is updated daily and is completely free to use. The site has numerous 'Pixies'; contributors who visit shops and High Streets in several cities throughout the UK.
"The site allows you to see where the best High Street bargains are before you even set foot out of the house, and that means you can go straight to your favourite stores that have the best deals that day, and grab the best pieces before they are snapped up," said Susan Reid of TheFashionPixie.com.
The web site was the brainchild of frustrated shopper Nicole Snape, who got together with other likeminded women to develop the site.
"I couldn't believe that people didn't want the same thing I did, and with help from web experts we have the ability to tell everyone about the best sales, saving time, stress and hopefully a lot of money!" she said.
Designed to be accessed through social media and mobile devices such as iPhones as well as laptops and PCs, readers can also link to online sales and share the best bargains via Facebook and Twitter, as aspect that is fuelling its rapid growth in popularity.
"The more people that contribute and tell us what deals they have seen, the better the service will get, it is like having thousands of friends keeping you informed about the best sales," added Nicole.
People can access the site free of charge at http://www.TheFashionPixie.com and can register in seconds for regular email sale alerts or just browse the live sales information and see where the best discounts are on any given day.
###