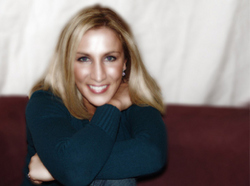 Getting in The Flow with Tara: Life Transformation Served Up Weekly
Denver, CO (PRWEB) December 21, 2007
Tara Meyer-Robson, author of The Flow: 40 Days to Total Life Transformation, will be hosting a new internet radio show on GoodLife Radio. The show, entitled "Getting in The Flow with Tara: Life Transformation Served Up Weekly," how to totally transform their lives with ease, is focused on teaching listeners how to totally transform their lives with ease, whether they are seeking more success, a better love life, more prosperity or any other personal goal or dream.
Based on her ground-breaking "Flow System," the show will focus on teaching listeners how to get rid of problem habits and behavior patterns, release negative experiences, and create the bodies and lives that they truly desire. What is totally revolutionary about this show is Tara's approach -- she will teach listeners how to completely rethink their minds' relationship to their body and life by understanding how negative beliefs affect the creation of their physical health, emotional wellbeing and life experiences.
As Tara Meyer-Robson explains, "Through years of research and experience, I realized that the programming that we receive throughout our lives has a profound effect on the life that we create -- literally tuning us in to patterns of negative experiences, 'unbreakable' habits, emotional responses,and even disease, much like tuning into favorite TV stations. Unfortunately, this is why so many people have such a difficult time succeeding at changing their lives -- because so much of this programming is subconscious, or hidden. My system solves this issue by allowing people to first pinpoint their negative beliefs, and then develop a personalized plan to retune them to flow with the life that they truly desire."
As the holidays are a time when emotional stress and old family patterns can create particular difficulty, "Getting in The Flow" with Tara" will premier on December 21st with a two-part "Flow Holiday Special" designed to teach listeners to not just survive the holidays, but to actually thrive during the holiday season.
In these shows, Tara will take listeners through a powerful step-by-step plan to create a truly joyous, authentic holiday season for themselves and their loved ones, teaching them to:

Break free of other's expectations
Understand what is really important to them
Speak their truth to others without fear or worry
Learn to detach from negative, difficult people and become more powerful
Use easy exercises to transform any relationship or situation instantly
Connect with gratitude and flow with love for themselves and for others
Truly connect with the holiday that they desire!
As Tara points out, "The holidays are certainly a time of joy, but more often than not, they are also a time where old emotional wounds, guilt, and difficult family dynamics come back to the surface. I wanted my first shows to really help people to get through this time of year connected with joy, peace and love -- for others and for themselves!"
"Getting in The Flow with Tara" will broadcast at 8 a.m. every Monday morning, and will continue to be available to listen to on-demand throughout the week after the initial broadcast.
Upcoming show topics include:
How to succeed in your New Year's goals and make 2008 the year of your dreams
Developing "you-power": Designing an action plan that you can stick to (and succeed at)!
Creating flowing relationships: Easily connecting with your perfect partner -- in love, work or friendship.
Decision-making made easy: How to make the best decisions for your life without worry or stress.
Releasing other's expectations: Living a truly authentic, powerful life.
Whether during the holidays or anytime throughout the year, "Getting in The Flow with Tara" will help listeners to transform their lives and truly flow with the lives of their dreams!
To tune in to the program or find out more about GoodLife Radio, click here.
To find out more about The Flow system or to interview Tara Meyer-Robson about The Flow: 40 Days to Total Life Transformation or other topics about life transformation, mind/body healing, or succeeding in New Year's resolutions (and in life), visit her on the web at http://www.flowwithlife.com.
About Tara Meyer-Robson
Tara Meyer-Robson is an emerging new voice in the field of life transformation and personal growth. She is CEO and Creative Director of The Flow, a company dedicated to helping individuals, companies, and health care organizations achieve success and wellness with ease. Her first book, The Flow: 40 Days to Total Life Transformation, released in late September 2007, and has already received rave reviews from readers whose lives have been transformed by using the system. The Flow has also been nominated for a 2008 EVVY award and a 2007 Foreword award in the categories of self-help/personal growth and mind/body/spirit.
Tara brings her unique voice and sense of humor to everything that she does, breaking down difficult concepts in a way that is easy to understand, completely engaging and enjoyable to learn about. It is her authentic love of people and desire to help others achieve their best that drives her, and this authenticity comes across in everything that she does.
Once given an award for being a "Woman with a Mission," it is now her mission to reach out and teach as many people as possible how to create amazing, healthy, struggle-free lives.
Tara has consulted and conducted seminars and life transformation workshops on a national basis for healthcare organizations, associations, hotels and spas, and companies ranging in size from Fortune 500 to small businesses. She is currently creating life transformation retreats with the Amelia Island Plantation; the first retreat is set for late January 2008.
For more information about Tara and The Flow system, contact her on the web at http://www.flowwithlife.com.
# # #