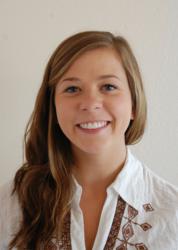 I am so looking forward to this opportunity to roll up my sleeves and get some real-life experience
Denver, CO (PRWEB) May 28, 2013
Brad Friedman, President of The Friedman Group, LLC is pleased to announce the newest addition to its team! Katie Komnenich is originally from the northern suburbs of Chicago and is studying Communications and Sociology with a minor in Marketing at the University of Denver. Katie wraps up her Junior year in June and is eager to gain experience in the social media and inbound marketing world.
Katie will be helping the Friedman Group, LLC maintain it social media networks as well as those of its clients. Her job responsibilities will include: managing/monitoring social networks, creating profiles for clients on their social networks, creating social branding sites, networking/word of mouth and inbound marketing, blogging, tweeting, updating, linking, and search engine optimization.
With a very strong background in photography, graphic design, and creative writing, she plans to use her creativity and strong work ethic to aid the Friedman Group, LLC with upcoming projects. "I am so looking forward to this opportunity to roll up my sleeves and get some real-life experience," says Katie. "I'm receiving a tremendous education and can't wait to put it into action."
The Friedman Group, LLC helps professionals and businesses enhance their online image while providing inbound and social media marketing services focused on assisting its clients in engaging their clients, prospects and referral sources in an effort to generate revenue. The Friedman Group, LLC is unique because its president has been an attorney since 1986. Leveraging his understanding of client's business complexities makes The Friedman Group, LLC uniquely qualified to provide the services it does.
Look for Katie's work on our blog and follow her @komaneechiwaa on Twitter.
About The Friedman Group, LLC
The Friedman Group, LLC works to enhance the online image of professionals (especially those in regulated industries) and businesses. It offers Strategy Development, Training, Implementation and Inbound and Social Media Marketing specifically tailored to the needs of its clients foregoing the urge to take a cookie-cutter approach to its work. Beginning each engagement with a detailed online assessment followed by the creation of a strategy to generate leads and engage clients, prospects and referral sources is what sets The Friedman Group, LLC apart from other companies in this space. Don't hesitate to contact Mr. Friedman for all types of speaking engagements too. For more information, please visit our website at http://friedmansocialmedia.com or call us at 720-248-8185. You can also join us socially on Twitter @bradfriedman, on Facebook at http://facebook.com/TheFriedmanGroup, on Pinterest at http://pinterest.com/bafman/ or on LinkedIn http://linkedin.com/in/bfriedman.