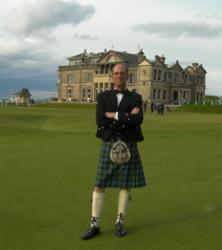 Myrtle Beach, SC (PRWEB) June 27, 2013
Mitch Laurance, whose experience includes an extensive career directing, producing, and acting on television will be joining the all-digital platform of TheGolfDirector.com. Laurance will bring his extensive video and television experience to the team as well as hosting a golf history radio show called "Hooked on Hickories".
"The history of the game of golf is like an addiction to me," says Laurance. "I'm excited to be joining The Golf Director team and look forward to hosting the Hooked on Hickories golf talk radio show. I'll also be involved in bringing video and insight on an extraordinary collection of golf courses designed to maximize the choices of those planning golf vacations."
TheGolfDirector.com launched in January 2013 and includes a golfing social network at its core with 24 / 7 golf talk radio and web TV channels. In less than six months the network has reached over 130 countries delivering hundreds of thousands of listening and viewer sessions. The all-digital platform currently focused on the Myrtle Beach, SC golf market has plans to expand into other golf destinations.
"Launching our network in Myrtle Beach was a natural fit," says network creator, Jeff Gilder. "We live in Myrtle Beach and there are nearly 100 courses here in the area referred to as The Grand Strand. We are thrilled to be adding Mitch Laurance to our team. His experience and talent is unmatched."
For more information about TheGolfDirector.com network visit their website at http://thegolfdirector.com