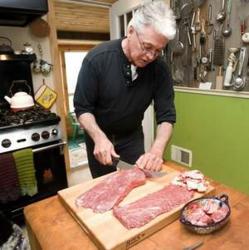 Morrisville, VT (PRWEB) May 11, 2011
Renowned butcher and culinary mastermind Cole Ward is sharing his coveted butchering skills with fellow meat lovers June 4-5 during an informational and hands-on two-day seminar. Ranked among the top 50 butchers in the United States, Ward's master butchering technique has played a pivotal role in the craft's re-emergence onto today's modern culinary scene.
Vermont's own Gourmet Butcher will get up close and personal with registered guests as he teaches participants how to master the art of butchering beef and pork. During the two-day seminar foodies will divide their days between preparing sausage, butchering pork and both beef hindquarters and forequarters into primal, retail and gourmet cuts.
Honing his craft for the greater part of the past four decades, Ward began his impressive career at the tender age of 14. Working part-time in a butcher shop stuffing sausages for 20 cents an hour, it wasn't long before Ward began apprenticing full time.
His passion for butchering has led to a highly publicized and rewarding career, recently releasing a highly acclaimed DVD series The Gourmet Butcher: From Farm to Table which walks viewers through the butchering process from primal cut to gourmet meal.
As an increasing number of Americans seek out the provenance of the meat they consume, there is no greater transparency available today than butchering meat oneself. Don't miss out on this unforgettable seminar which will take place at 6235 Chester Arthur Road, Enosburg Falls, Vermont. With only 40 slots available, spaces are limited. Secure your place today by registering via email at thebutcher(at)thegourmetbutcher(dot)com. Please include your name, address and phone number.
Cost: $250.00 prepaid
Check should be sent to:
Cole Ward, The Gourmet Butcher
P O Box 18
Johnson, VT 05656
Registration will be confirmed once payment is received.
Class Schedule:
Saturday June 4th:
Morning Session: Butcher Pork into primal, retail and gourmet cuts
Afternoon Session: Sausage preparation
Sunday, June 5th
Morning Session: Butcher Beef Hindquarter into primal, retail and gourmet cuts
Afternoon Session: Butcher Beef Forequarter into primal, retail and gourmet cuts
Participants should bring a small cooler as cuts of beef and pork will be divided among those in the class.
For more information on the Gourmet Butcher, check out Cole's Blog here!
###