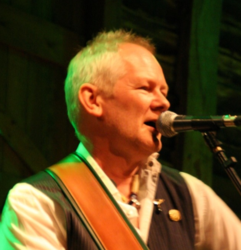 A significant moment in the British history of the banjo.
Norwich, Norfolk, UK (PRWEB UK) 24 May 2013
British specialist banjo retailer Banjos Direct has announced the launch of an expanded manufacturing business called The Great British Banjo Company.
The Great British Banjo Company Ltd, previously known as Left Hand Bear Ltd, owns the online store Banjos Direct as well as the UK manufacturing brand Islander Banjos, which last year launched the acclaimed British-made Islander Ash Leaf banjo.
The Norfolk-based business will continue to operate as a retailer of imported instruments under the Banjos Direct name, but will expand its British manufacturing activity over the five years, beginning with the launch of an all-new British-made instrument.
Details of the new instrument, which will be available as an openback and a resonator back banjo, will be announced later in the year.
Managing Director of The Great British Banjo Company, Simon Middleton, said: "This is a big step for us as a Norfolk business, and a significant moment in the British history of the banjo."
"There has not been substantial production of banjos in Britain since the Second World War, and all of the mainstream British brands of instrument are actually made in the far-East."
"There are a handful of excellent individual luthiers who are genuinely making banjos in Britain, working to individual commissions or in small numbers. But our project is different. We will be manufacturing high-quality British-made instruments in large numbers which are affordable for British buyers and very attractive for the export market too."
"We will have a series of announcements about the journey we are on over the coming weeks and months, all of which add up to an exciting British manufacturing story," Middleton added.
COMPANY INFORMATION:
The Great British Banjo Company and Banjos Direct are based at the acclaimed manufacturing innovation campus Hethel Engineering Centre just outside of Norwich, Norfolk, UK.
The privately owned business was founded by brand adviser, business author and musician Simon Middleton and has grown rapidly to become the UK's best known banjo specialist retailer.
The Islander Ash Leaf was designed by Simon Middleton and the acclaimed banjo craftsman Malcolm McLeod, who is head of production for The Great British Banjo Company.
For further information visit: http://www.banjosdirect.co.uk.