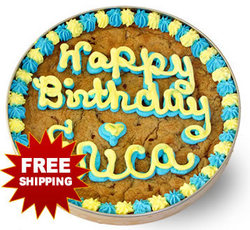 Baltimore, MD (PRWEB) November 17, 2010
The Great Cookie announces a new website that allows customers to purchase their delicious cookies and personalized cookie cakes online at http://www.thegreatcookie.com. The site was designed to showcase The Great Cookie's variety of cookies and specialty items, including chocolate chip, double peanut butter, oatmeal raisin, double chocolate fudge, almost heaven, butter crunch and their famous snickerdoodle cookies.
The design of the website ensures a customer can personalize a cookie cake that is made to order and baked fresh daily for delivery. This cookie cake can be personalized with a special message from Happy Birthday, Happy Turkey Day or any personal message you prefer to send within a specific character limit. The charge for the fresh baked cookie, the customization and the shipping is $25.99.
Jason Fruman, President of The Great Cookie states, "We had a soft launch in October and have seen our online sales double just from introducing the new design. We are planning other media and marketing tactics in the months ahead to gain awareness across the United States." The Great Cookie currently has locations in the Baltimore area and believes this website is an extension of their already successful business and plans to share their tasty treats to customers across the United States.
The Great Cookie is Baltimore based with seven locations including Security Square Mall, Eastpoint Mall, Towson Town Center, Westfield Annapolis Mall, White Marsh Mall, Mondawmin Mall and The University of Maryland Hospital.
If you'd like more information about this topic, please email Heidi Marcotte at heidi(at)thegreatcookie(dot)com or call her at 1-800-299-1131. Online at http://www.thegreatcookie.com
###