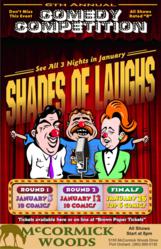 Bremerton, WA (PRWEB) January 02, 2013
It will be a busy two weeks in Bremerton and Port Orchard as both the Cloverleaf and McCormick Woods are preparing to welcome comic geniuses from the United States and Canada to compete in round 1 and round 2 of the "Shades of Laughs" comedy competition semi-finals.
On Friday, January 4th at 9:00 pm the Cloverleaf will host Round 1 of the semi-finals with an encore performance at McCormick Woods on Saturday, January 5th at 7:00 p.m.
The next weekend will prove just as funny as Round 2 of the semi-finals will kick off on Friday, January 11th at 9:00 p.m. at the Cloverleaf. An encore performance of this round will take place at 7:00 p.m., Saturday, January 12th at McCormick Woods.
What started out with 400 comics in consideration has been narrowed down considerably and the audiences in Bremerton will watch 10 comics compete in each round of the semi-finals. With only 6 minutes in the spotlight to prove themselves, these comics will pull out all the stops as they vie for a spot in the Finals.
Large Group Bookings can be made at 360 551-1129. Tickets are on sale now at the Cloverleaf and McCormick Woods. Tickets are $15-$20 per show, $10 for Military with ID, and a special 3 show package available.
Shows are open to 18 years and Older, and the shows are Rated "R".
Round 1 Top 10- Friday, January 4 at the Cloverleaf in Bremerton at 9 pm.
Saturday, January 5 at Mccormick Woods in Port Orchard at 7pm.
Round 2 Top 10- Friday, January 11 at the Cloverleaf in Bremerton at 9pm.
Saturday, Jan 12 in Port Orchard at McCormick Woods at 7 pm.
For more Information Contact:
Cris Larsen
http://www.thegreatcris.com
360 551-1129
or
For PR or Marketing Info Contact:
Kelle Kitchel - Cooper, Director of Development
The RockFish Group, llc.
Marketing | Development | PR | Sales | Consulting Group
360.930.9892 kelle(at)rockfishgroup(dot)com