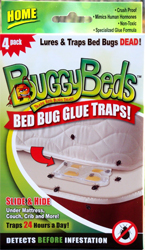 BuggyBeds are bringing PEACE OF MIND to families around the world in all areas of their life: in their home, while on travel, in their auto, dorm, camp & more.
Issaquah, WA (PRWEB) October 02, 2012
Bed Bugs used to be a thing of the past until recent news brought them back to life. A potential housing compound exists for bed bugs. Unfortunately, there is not a quick test for bed bugs, which means that the home or office could be infested – until now! BuggyBeds® has created Bed Bug glue traps that lures bed bugs into a trap and away from the home.
What's the Big Deal with Bed Bugs?
How could such a tiny insect be such a concern? These microscopic reddish brown parasites can grow up to a ¼-inch in length. They will enter the home from luggage, furniture, clothing and even people. As the homeowner sleep, they will feed on blood and in order to continue growing, they need to continue feeding. Bed bug bites are visible to the naked eye and look like small sores that itch and are prone to infection. Once a bed bug infestation occurs, a female bed bug can lay 12 eggs per day and hatch up to 200 eggs in her lifetime inside the home. That means bed bugs will rapidly spread if they are not detected.
How BuggyBeds® Works
Back in the day, the only way to find out bed bugs was to look for the tell-tale sores or have a professional inspection. The issue with finding sores, though free, was that by the time sores showed on the body, the home was already infested. BuggyBeds® Bed Bug glue traps are a small trap that lure bed bugs to it. Once they enter into the glue, they are trapped until they die. By placing BuggyBeds® in between the mattress and box spring, there can be peace of mind in knowing not only catching these blood-sucking parasites, but that it can be thoroughly detected if the home has an infestation problem. Once bed bugs are detected, contact a professional extermination service immediately to have the problem taken care of.
BuggyBeds®, which have been featured on the National Geographic Channel and In the Shark Tank. Now consumers can find BuggyBeds® by visiting the online The Hardware City website. BuggyBeds Bed Bug glue traps are available at a very affordable price with free shipping. With prices cheaper than Amazon and a reputation for carrying the best home products money can buy, The Hardware City is your one-stop shop for everything home and garden related. Don't let the bed bugs bite! Fight back with BuggyBeds® products at Hardware City online today!
About The Hardware City
The Hardware City has been offering low prices and exceptional service since it opened. Contact a customer service representative to place your order by calling 1-888-252-4252 or visit http://www.thehardwarecity.com today.