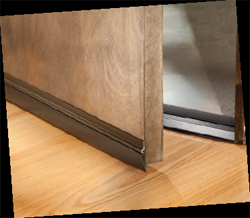 Cinch™ Door Seal works by creating an air-tight seal around the sides, top and bottom of entry doors.
Issaquah, WA (PRWEB) October 11, 2012
Cinch Door Seals promises to save time, energy and money all in one deal with their latest in product inventions, the new self-adhesive It's A Cinch! weather strips for doors. The weather strip featured by Cinch Door Seals can be used anywhere on the door to weatherproof the doorway, whether to seal the top, sides, or bottom. It's just in time to keep back cold drafts in the wintry weather and chilly fall days.
New from the weatherproofing experts at Cinch Door Seals, the It's A Cinch! product has three great qualities. First, it saves time and energy because it takes five minutes to assemble and seal the door with. Simply measure where it will be placed, trim the seal, peel and stick it to the surface. As a self-adhesive weather strip, the Cinch Door Seal product is created with advanced 3M adhesive technology. The product comes in three different colors, including white, brown, and silver, to match the door surface it will be placed on.
It's time to say goodbye to the troublesome drill gun, screwdriver, and all tools that one would typically use to assemble weatherproofing devices. Cinch Door Seals has created a product that anyone can use in the comfort of home or office location with absolutely no additional tools needed. It only takes four steps to install the self adhesive weatherstrips from Cinch Door Seals: measure, trim, peel and stick. Money is saved and time is saved because no additional assembly is required. Energy is saved because weatherproofing the doorway means savings every month in utility costs.
Typically, $2000 is the minimum price spent on utility bills every year by homeowners. Heating and cooling takes about half that cost. Sealing air leaks could potentially cut a utility bill by $13, according to the US Department of Energy. Not only is it savings on money, but it's probably one of the quickest and least expensive way to save money on utility costs. In the end, weatherproofing doorways will pay for itself.
Save on utility costs by weatherproofing doorways. It's a big change when the utility bill comes around and the house is better protected against cold weathers. This can be used for office and business locations as well. It installs in minutes, but lasts for years. Cinch Door Seals creates an air-tight seal around the doorway, from the top and sides to the bottom, and it takes minutes to assemble.
About Cinch Door Seals
The Cinch Door Seal product is created by Cinch™, the weatherproofing experts. With a two year warranty on their products and the latest technology incorporated into product created, Cinch™ knows what it takes to make a great product.
CinchDoorSeal.com
4041 North Santa Fe Avenue
Oklahoma City, OK 73118
USA
About The Hardware City
The Hardware City is one of the biggest online retailers for hardware products. We're the destination for those who like to get their hands dirty and need some solid products to work with. Our tools and hardware sell at some of the lowest prices on the web, but they're also some of the highest quality products on the web.