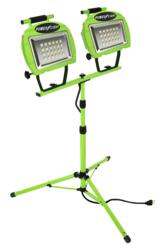 It uses 20 watts and produces 1,558 lumens
Issaquah, WA (PRWEB) December 05, 2012
Known for being an industry leader, online retailer TheHardwareCity.com has another first to add to its ever-growing list. The virtual hardware product store is the first to offer Designer Edge's new Eco-zone LED Twin Head Worklight. Designer Edge is a subsidiary of Coleman Cable, Inc.
TheHardwareCity.com owner Asha Rani stated that the store is "focusing more on 'green' products that will save contractors money on their construction sites."
Approved for both indoor and outdoor use, Designer Edge's latest worklight features 48, 5630 surface mount light emitting diodes. According to Ms Rani, that means the light gives off very little heat and has low voltage and current requirements.
"It uses 20 watts and produces 1,558 lumens."
Housed in die cast metal, the latest addition to the Eco-zone line stands 42 inches high and 28 inches wide. Each unit, which has a five foot cord, weighs 26 pounds and has a steel stand H frame. The power switch has weatherproof push buttons and each of the worklight's twin heads has a steel handle with foam padding. Most impressive, however, is the fact that TheHardwareCity.com is offering the new LED worklight for just $99.95, well below the retail price.
"We are proud to be on the leading edge of giving our customers products that will make a difference in both their bottom lines and in the environment," Ms Rani said.
For more information about this or any of TheHardwareCity.com's products, visit http://www.TheHardwareCity.com.
TheHardwareCity.com, one of the largest sellers of hardware products online, has combined the old school philosophy of cutting cost with the latest in technology whenever possible since 2007. As an online-based retailer, TheHardwareCity.com offers products available to customers that other larger and smaller brick-and-mortar stores don't often carry. Additionally, TheHardwareCity.com offers live assistance online, Monday through Saturday, to ensure its customers get exactly what they need.
Coleman Cable, Inc. acquired Designers Edge in 2011. For more than 24 years, Designers Edge has continued to build on its reputation as an innovator of high quality, uniquely designed lighting products and has received numerous industry awards for design and packaging along the way. With its combined family of subsidiaries, Coleman Cable has distinguished itself as a leading manufacturer and innovator of electrical wire and cable products for the security, sound, telecommunications, electrical construction, retail, commercial, industrial, irrigation, HVAC and automotive markets.