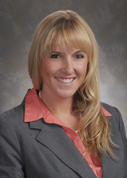 Denver, Colorado (PRWEB) November 16, 2012
Originally from Texas, Sylvia Brownfield, Esq. moved to Colorado in 2009 and graduated from the Sturm College of Law at the University of Denver in 2012.
Sylvia interned for Honorable Tena Callahan in Dallas, Texas and for the Honorable Angela Arkin in Castle Rock, Colorado. Both experiences provided her with the opportunity to work along side excellent Domestic Relations judges. After clerking at The Harris Law Firm in 2011 Sylvia Joined the Firm as an Associate Attorney in 2012. Sylvia is currently working with John Tatlock, Special Counsel with the firm, and Kathryn Nelson, one of the firm's Senior Attorneys.
Outside of work you can find Sylvia outdoors, whether it be skiing, running, biking, or playing tennis. She even continues to teach several weekly fitness classes and recently completed her first half-ironman. Sylvia is a member of the Sturm College of Law's Recent Alumni Hub, and she intends on dedicating a considerable amount of time towards organizations like Metro Volunteer Lawyers.
About The Harris Law Firm:
Located in Denver and Fort Collins, the 19 attorneys at The Harris Law Firm are a team of Colorado family law specialists who serve clients throughout the State of Colorado. The lawyers and staff at "Colorado's Family Law Team" are dedicated to helping you with issues related to divorce, child custody, legal separations, step parent adoptions, and other matters that pertain to Colorado family law.